They're smart, they're small and they're all over Vancouver. They're the 200-plus smart cars that make up Vancouver's car2go fleet. The car sharing co-op, already established in several urban settings around the world, launched its Vancouver operation in June.
Thanks to a few key characteristics, the city of Vancouver makes an ideal location for a car-sharing operation. As part of its goal to be the greenest city in the world by 2020, the municipality has progressive bylaws to help environmentally friendly businesses, such as
car2go
, establish themselves.
Also, the downtown core has an exceptionally high population density and many who live there don't own their own vehicles.
After a six-month pilot project, test drivers reported the system worked extremely well and indicated that the proposed price structure was feasible.
Looks like those test drivers where right. According to business development manager for car2go Canada, Sandra Phillips, after just three weeks in operation, over 2,000 members had signed up.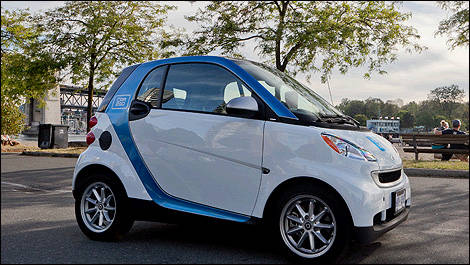 Photo: Car2go
Phillips says Vancouverites are using the service in much the same way as it is used in other cities. Suburbanites who have business in town are taking transit into the city, picking up a car for the day, and then taking transit home again.
Urbanites who live in the downtown core are using the cars for once- or twice-a-week grocery trips or driving to destinations with limited transit accessibility. Some who normally use bicycles or scooters as their main form of transport use car2go in the rainy weather that Vancouver is famous for.
Members have several options for finding the nearest vehicle. They can check the Car Finder on the car2go website or phone customer service. Those with a smartphone can download a free application that shows the location of available cars as well as designated parking spots.
Parking in Vancouver, like many cities, is scarce and expensive, so the designated parking spaces are a bonus. The 26 designated spots are located in areas notoriously difficult to park in, including the West End, Coal Harbour, Kitsilano, Granville Island, False Creek South and the downtown core. The reserved spots save time that would otherwise be spent trolling the city streets. In residential areas within the operating area, the cars may be parked on the street, even in permit only areas.
Those new to the system may want to take the smart cars out for a test-drive or two just to feel comfortable behind the wheel and to try out their smart car parking skills. A search and find of the designated parking locations is also a good idea. They'll be easy to find when time is tight, as will alternative spots nearby in case the desired location is full.
It looks like the car2go concept is suited to Vancouver, a city that's doing its best to reduce its carbon footprint. Drivers of the car2go will not only feel good about going green, but they'll also enjoy zipping around town in their cute little smart car. Best of all, though, is the convenience of picking up a car2go.