I'm living la dolce vita behind the wheel of a cheery little red Fiat 500. The road winds through mixed forest, and I've got one eye peeled for wayward turkeys and deer. Once I've completed the route, I plan on exchanging the wee Fiat for a Charger SRT, menacing in black with understated Mopar decals.
The road is part of Chrysler's Chelsea Proving Grounds, just a short drive from Ann Arbor Michigan.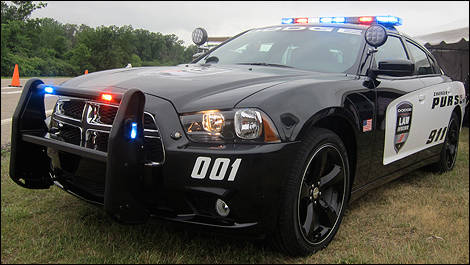 Photo: Lesley Wimbush/Auto123.com
If you're not familiar with the CPG, as it's known in automotive circles, the facility is a 3,850-acre site where new products are tested for handling and durability. There are several tracks; among them, a steeply-banked oval for high-speed and performance testing, a two-lane "ride road" with a variety of surfaces to evaluate suspension, noise and vibration, and a small road course featuring several hairpin turns.
Four-wheelers are put through their paces on a series of twisting forest trails incorporating big, sloppy mud puddles, corduroy log sections and hilly inclines so steep that flipping over backwards seems entirely possible.
Although the skies looked ominous this morning, so far the weather gods have favoured us—other than a minute smattering of rain around lunch—it has otherwise been a most agreeable day.
The parking lot is full of new 2012 model-year cars, from the diminutive Fiat 500 to the lusty Challenger 392—keys in ignition and all free for the taking. So many cars, so little time. I'm on overdrive trying to fit in as many as I can before the day's end.
Unfortunately, most of what's on the menu today is under embargo. In automotive parlance, that means although we're welcome to look, touch and drive, sharing images and impressions is strictly verboten. Never having broken an embargo, I'm not exactly sure what the penalties are, but I live in fear that it somehow involves bamboo shoots under the fingernails and nose hairs plucked without benefit of anaesthesia.
Here's what I've been given permission to tell you:
I'm happy to confirm that rumours of a Chrysler 8-speed transmission are in fact, true. Initially, the transmissions will be supplied by ZF (or ZF Friedreichshafen AG engineering in Germany), but Chrysler has obtained rights and licensing to eventually produce them in-house. Fuel economy was the number-one priority in its development; it reportedly delivers a "double-digit improvement" over current fuel numbers.