It's customary for American auto manufacturers to auction off the very first units produced of their new sport models and special editions. The annual Barrett-Jackson auction in Scottsdale, Arizona took place recently and brought in over $US 5 million for charity just from the sale of four iconic American cars.
Hendrick Motorsports owner Rick Hendrick placed a winning bid of $925,000 for the new 755-hp 2019 Chevrolet Corvette ZR1 – the most powerful and quickest Corvette ever produced. Another Corvette, a Carbon 65 Edition coupe signed by former U.S. president George W. Bush, was bought by John Staluppi, owner of the Atlantic Automotive Group, thanks to a bid of $US 1.4 million.
The money raised from the sale of the two cars went to organizations working to support military veterans.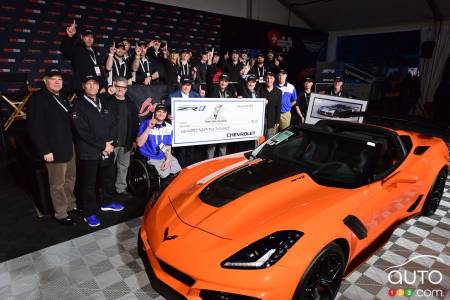 Meanwhile, a 2017 Ford GT donated by businessman Ron Pratte – along with a GT experience at the Ford Performance Racing School – sold for $US 2.5 million, with proceeds going to an organization helping autistic children in North Carolina.
As well, Ford and the estate of acting legend Steve McQueen agreed to put up for auction the first copy produced of the new 2019 Mustang Bullitt, recently unveiled in Detroit. The $300,000 raised in the sale was destined for the Boys Republic organization.