Auto123 gets out its crystal ball and presents the 30 most notable models that will hit the market in 2023-2024. Today, 10 cars!
The automotive industry continues to undergo a metamorphosis, and the next few years will not be easy for manufacturers, or even for enthusiasts who follow the latest news about everything that encompasses the industry. Once again, we present you 10 models of cars that are highly anticipated in the months and years to come.
See also: Top 30 Vehicle Models Expected in 2023-2024: The SUVs
2024 Acura Integra Type S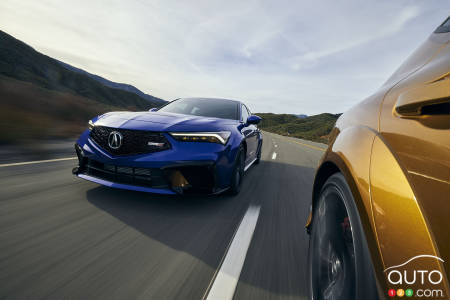 It was an open secret that the Japanese brand wanted to bring back the Type S badge on a car bearing the Integra name. It's now official: the 2024 Integra Type S is coming very soon, in fact it should debut in the summer of 2023.
Mechanically, the performance variant of Acura's new compact car uses the same 2.0L turbocharged 4-cylinder engine, though here it delivers five extra horses for a total of 320 hp, and an equally explosive 310 lb-ft of torque. As for the transmission, Acura relies on a 6-speed manual. That's a promise!
See also: 2024 Acura Integra Type S Is Introduced