Attention all those discerning coffee lovers who want their java a certain way and want it now: I've got something for you! Or if that's not you, you likely know someone like that, and here's a perfect gift idea sure to enthrall!
I'm talking coffee for on-the-go aficionados here, and hereby present to you the Handpresso. This small portable espresso machine is designed for use in the car. A number of different models of them exist, tailored for use on the water in boats, when travelling or when just enjoying the outdoors, but the one that concerns us here is conceived to provide a readily available stream of high-quality joe, no matter where we are or how bogged down in traffic we are. A wonderful concept, no?
A steaming hot cup of espresso has no equal when the craving hits. I can see myself on the road with my other half, a gorgeous countryside surrounding us, pulling out my little Handpresso (which is quite adorable, by the way), sticking in a little k-cup of my favourite coffee, pushing a button and voilà. Or if you want to get more down to earth, there are those times I'm just seriously in need of a wake-me-up when driving a long distance! Nothing like some exquisite caffeine-laced liquid.
The thought of owning one of these babies makes me just about want to jump up and climb in the car for no reason, just to find a pleasant spot to gaze at the horizon in meditation, espresso in hand. 'Course you don't need a cup of joe in your hand to do that but how much more pleasant it makes the experience, no?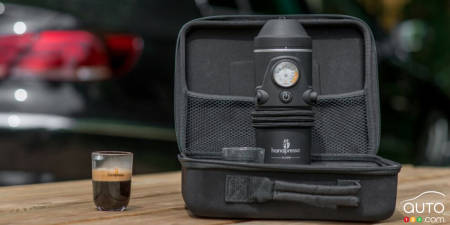 Or how about this scenario: I drive a good number of kilometres every day to get to work, and too often I have to contend with bumper-to-bumper nightmares. How many times have I temporarily hated myself and resented all of humanity for having forgotten my coffee on the kitchen counter at home? Too many times to count… and it's precisely in those maddening moments of peak traffic jam that that coffee could serve to boost my morale.
The Handpresso is made and sold in France, but it is possible to order it online in Canada from the distributor Espresso Planet. You can also find accessories like a really practical case to transport the Handpresso in, as well as coffee cartridges, cups, sugar and spoons. Personally I'd opt for the complete kit, because if you're going to have an espresso machine in your car, might as well go all in and equip yourself properly for its use! Nothing's too good, right?
You can find all the information on using the Handpresso and on its accessories for the car, by visiting the manufacturer's website.