A few days ago we presented you with three affordable gadgets that could make your life easier at the wheel. With the gift-giving season upon us, we now give you the second of a series of articles on Christmas gift ideas that, we hope, will make it just a bit easier to cross that friend, family member or colleague off your to-do list!
I know that for me, the same problem arises every year: how to find a relatively affordable gift that will nonetheless make the recipient happy. There are so many gadgets out there on the market that I don't have the courage to even research them, for lack of time but also for fear of being saddled, or saddling someone else, with something not really essential, or which can't be made to work properly.
To save you that agony, we went ahead and put together a list of interesting car-related gadgets that may appeal to different types of vehicle owners and age groups. Some lean more to the practical, others are just plain fun!
Today we look at a tool that should quickly come to be an essential tool you wondered how you ever did without: the smartphone holder for the car. This is an accessory sure to save you frustration. Ironically, it actually had a first wave of popularity a few years back, before being somewhat forgotten. And yet whenever I see my better half struggle to consult the GPS data on his phone by positioning it between his legs, I'm reminded that some clever minds have come up with solutions to that problem, which cost less than $20! The market, in fact, now includes several different types of holders for different car configurations and to satisfy different needs.
Windshield holder
A holder stuck to the windshield is not to everyone's taste. Some will complain that it obstructs their view, for example. The way I see it, these holders are compact enough that the only view they're likely to obstruct is of the bug that's just been squashed on your windshield!
I will grant, however, that certain types of windshields that already provide a somewhat restricted view of outside may not be ideal for placing your smartphone on. Something to consider before buying and gifting. If you, or the person you're giving it to, already has a narrow or obstructed view of the road, best think of another solution.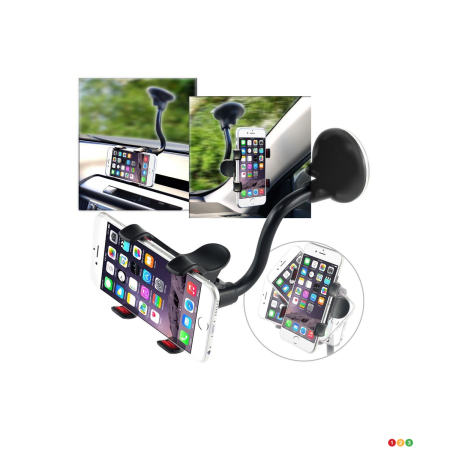 Dashboard holder
The holder made for sticking on the dashboard partially solves that problem. Generally this type of product is super easy to install, and the adjustable feet allow for easily turning the phone to the left or right, and up or down. Make sure that the one you choose can be adjusted to your model of smartphone; not all of them are universal. There are also magnetic ones, generally smaller and more visually appealing.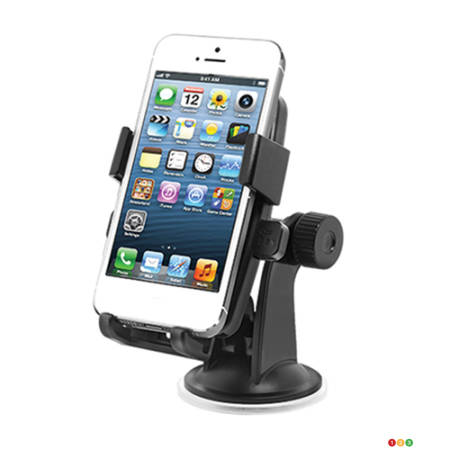 Holder with charger
This is the type of holder that plugs directly into the vehicle's 12-volt plug (or what we used to call the cigarette lighter!). Newer holder models generally have USB ports as well, at no extra cost, so are well worth seeking out. So, no more obstructed views for the driver; on the other hand, the compromise is that said driver now has to take his eyes off the road to consult the smartphone.
These are things to consider before you buy, but keep in mind that if you've bought a model and realize afterward that it doesn't really suit you, in most cases you can return it in exchange for another type of holder.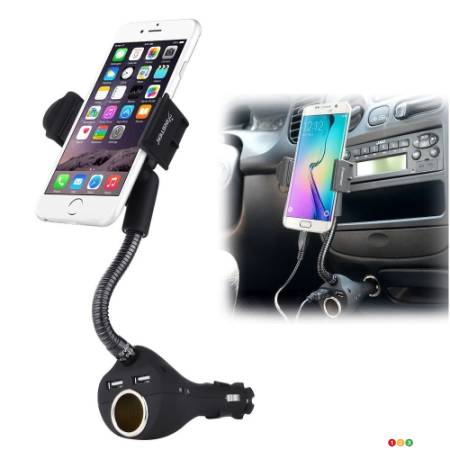 Holder on air vent
The principle is simple for this type of holder: just insert it in the slots of the air vents of your car. These models generally are adaptable to all vehicles, and you can rotate the holder to find the best angle of view. Some holders of this type work with a magnet.
Use of such a holder is as simple as it is to install. Get in the car, slide your phone into the holder and voilà. Reverse process when leaving the car. Frankly this is my favourite among the options I tried. What's more, the height the phone sits at on such a holder is pretty much perfect for my line of vision. The only thing that could beat this is a (more expensive) system that reflects your phone's GPS data on a transparent panel that displays on the windshield (click on the link at the top of this article for more details about such systems).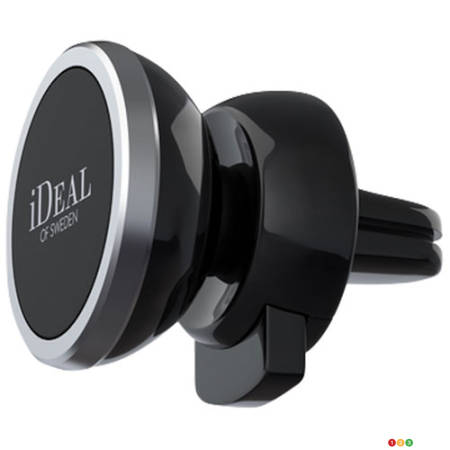 Holder in cup-holder
There are holders on the market that can be inserted into the cup-holder of the central console; for me, the obvious problem with this is that it puts my phone in close proximity to a hot cup of coffee! I'm told that apparently I can be kind of clumsy, as well as forgetful enough that I sometimes leave that morning's cup of coffee in the car when I get home. You can see the potential for danger, at least for someone like me…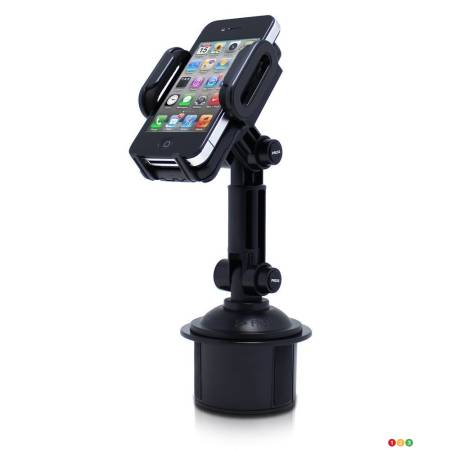 There are a number of products from several different companies available to consumers; every year sees improvements in presentation, not to mention durability and functionality. This year, here are two of my personal favourites: Car Smartphone Wireless Charging Pad and Magnetic Car Mount BASEUS. I have a personal penchant for discreet objects that do what they're supposed to do, effectively and simply. When they're attractive to boot, that's usually enough to make me decide to buy.
Make sure to check out my next article on automotive gift ideas, coming this weekend. Every week I'll be providing you with some nifty – and affordable – Christmas gift possibilities for that driver in your life.