Let us introduce you to REC Watches, a small company based in Denmark that creates handmade watches from components that in a previous existence were used in classic Ford Mustangs, not to mention Porsche 911s and Mini Coopers.
Yep, that's right. The two founders, Christian Mygh and Jonathan Kamstrup, together scour salvage yards around the world for models, each of which can be transformed into hundreds of unique timepieces, costing from $1,495.
During a trip to Sweden, the team struck gold with a rare 1966 Raven Black Mustang that has become the basis for their limited-edition P51-04 collection of 250 watches.
Some of their creations are the result of parts donated by customers, including world-class drift expert and stunt driver Vaughn Gittin Jr., who wears a watch that includes carbon fibre bodywork from his 700‑horsepower World Drift Series Ford Mustang RTR.
"Most people would just see a pile of metal, a ghost of a Mustang. We see something completely different—the soul of a car and a story that needs to be told. I'm not cutting up Mustangs. I'm bringing Mustangs that are beyond repair back to life as a watch."

- Christian Mygh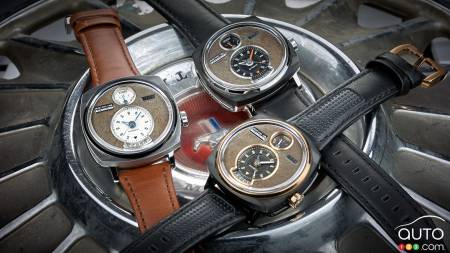 It's more than just watches, though: REC Watches painstakingly trace the history of each vehicle, talking to previous owners, collecting stories and images from the car's past lives and incorporating them into a bespoke video.
Each finished design incorporates the vehicle identification number, year of production and classic Mustang design cues. A power dial designed to look like a fuel gauge shows remaining battery life, and the date and dial numbers are all influenced by the iconic car's dashboard.
While deliveries to Canada could take several days or weeks, this is a great Christmas gift idea any true Mustang enthusiast will be happy to wait for. By the way, don't miss our review of the 2018 Ford Mustang, with four and eight cylinders!