Auto123 compares the 2019 Hyundai Tucson and the 2019 Jeep Compass, two models living very different realities in the compact SUV segment
In a market segment dominated by the Toyota RAV4 (55,000 units sold in Canada in 2018) and the Honda CR-V (54,000), the Hyundai Tucson holding its own quite well with just over 28,000 sales here last year, far ahead of the Compass with just over 9,400 units sold.
Hyundai has built a solid reputation among consumers with its Tucson, which has been on the market for fifteen years; it faces a model playing for a strong team whose lineup has both highs and lows.
2019 Hyundai Tucson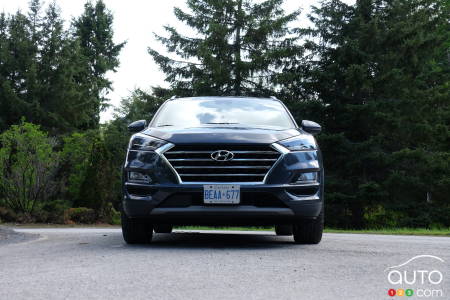 In order to keep its product up-to-date in a fast-moving market segment, Hyundai made some changes to the 2019 model such as new wheels in 17- to 19-inch sizes, a grille more in line with the new Hyundai design signature with tapered headlights conferring on the vehicle a more upscale look.
Our review of the 2019 Hyundai Tucson
Specifications of the 2019 Hyundai Tucson
End of an era
Hyundai, which had some problems with its 1.6L turbo engine, decided to take it off the market in 2019, replacing it with a proven, more-reliable 2.4L naturally aspirated 4-cylinder. The basic versions of the Tucson retain the 2L 4-cylinder from last year.
Transmission-wise, both engines are wedded to to a 6-speed automatic unint. The 2.0L engine delivers 161 hp and 150 lb-ft of torque while the 2.4L delivers 181 hp and 175 lb-ft.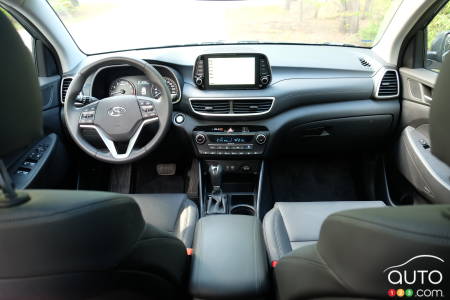 Inside
There are also a number of updates in the cabin, the most visible of which is the 7-inch screen in the centre of the console, which combines the multimedia system and has Apple CarPlay and Android Auto compatibility. The controls are simple, well-located and intuitive.
In regards to comfort and space, the quality of the materials is good and the environment is quite roomy. Cargo volume is estimated at 1,754 litres when the rear seats are folded down, which is not quite up to level of the best in the category - the Honda CR-V, for example, offers up more than 2000 litres, as does the Ford Escape.
On the other hand, the list of standard amenities is generous as is often the case at Hyundai, but don't look for incredible deals, the equipment is generous, but the price at pas with competition.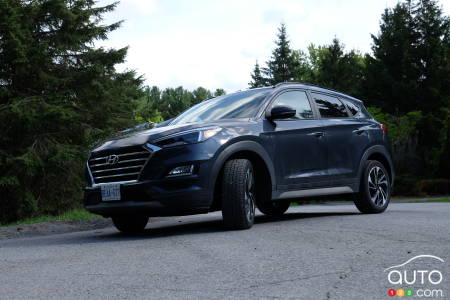 On the road
The arrival of a 2.4L engine is cause for hope when it comes to the drive. We know this engine well from having tested it in other models and it's quite versatile, plus it can pull a load of 907 lb with a brake-equipped trailer.
The choice of the 2.0L will saved you money, but while it's strong enough to power the Tucson, you quickly find its limits if you have passengers on board and/or mountainous roads to traverse. The effort required of the engine is greater and fuel economy is in that context worse than that of the 2.4-liter engine. The latter unit is the logical choice, and your driving satisfaction will be much higher.
Overall, the ride remains pleasant thanks to a solid structure that shows no noticeable weaknesses on the road.
Conclusion
Hyundai is taking an interesting step forward with the addition of an engine that gives more credibility to a model that's already widely respected in Canada.
Consult our listing of pre-owned Hyundai Tucson vehicles available in your region of Canada
2019 Jeep Compass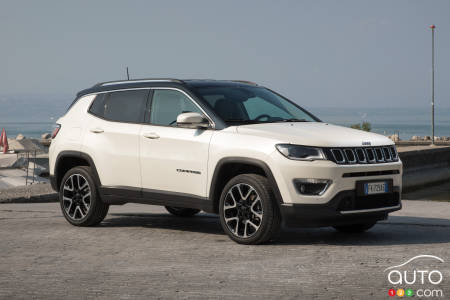 Jeep is synonymous with SUVs, to state the obvious. The company practically invented the segment, and today it offers models in every market niche. Many felt that with the arrival of the Renegade, the Compass would be gone, but Jeep redesigned it, making it bigger so it could slot in between the Renegade and the Cherokee.
Basically little more than a Dodge Caliber in its early years, the new version that arrived in 2017 offered a little more meat around the bones, including a Traihawk version for those who want to take it further afield than a gravel road.
What's new in 2019
Its complete redesign having taken place two years ago, there are only minor changes for this year. The Sport version is newly available with a special edition Upland package that adds unique wheels, grille, tow hooks and a front skid plate taken from the Trailhawk model, as well as some other aesthetic add-ons.
The Limited model adds the optional High Altitude Package that comes with 19-inch wheels, HID headlamps with LED daytime running lights and glossy, satin-finished exterior trim.
Also new is the Sting Gray colour, adaptive cruise control for the optional advanced safety package and a 7.0-inch infotainment touchscreen with the Android Auto and Apple CarPlay versions for the Sport and North versions.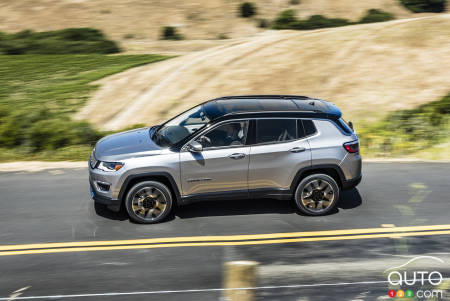 Several versions
The Compass is still offered in four versions: Sport, North, Limited and Trailhawk, as well as sub-versions Altitude and High Altitude, which are based on the North and Limited models; all are powered by a 2.4L 4-cylinder making 180 hp and 175 lb-ft of torque. The FWD models (Sport and North) start with a 6-speed manual gearbox that can be switched out for a 6-speed automatic transmission. The 4x4 variants all use a 9-speed automatic transmission.
The new Compass and its Grand Cherokee-like look have given new life to this model, giving it a more upscale appearance. It's a smart – and necessary - move because the popularity of SUVs means that more and more vehicles are fighting each other, especially in this category, and every asset in favour of a model is important.
Standard equipment
The base model's standard package includes 16-inch steel wheels, six-way manual adjustable front seats, climate control and the Uconnect infotainment system with this year's new 7.0-inch touchscreen.
The North edition adds an automatic fuel-saving stop/start system for the engine, 17-inch alloy wheels, automatic headlamps with fog lights, a keyless entry system, ambient LED lighting and a leather-wrapped steering wheel.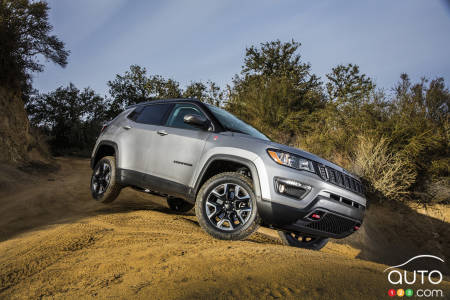 The Limited offers 18-inch wheels, 7.0-inch gauge display, auto-dimming rearview mirror, dual-zone climate control, heated seats and steering wheel, 12-way power driver seat, wiper defroster -glass and windshield and 8.4-inch touchscreen.
The Trailhawk features 17-inch wheels with stickier tires, a low range, off-road drive modes, underbody protection, tow hooks and off-road suspensions.
Disappointing drive
To say that we were disappointed at the wheel of the Compass would be a misleading understatement. You feel the steering wheel as you would a marshmallow, and the 9-speed transmission (yes, the one that caused FCA engineers sleepless nights for months) is as unpleasant to use as it is in the Renegade, and seems to spend most of its time chasing gears without finding the right one.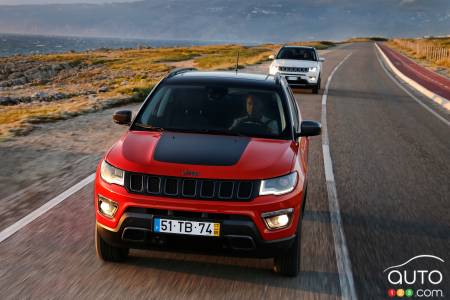 The braking also lacks bite, and roll is notable if you get the dodgy idea of taking the Compass onto a winding road - and this instability is even greater with a two-wheel-drive model. It is therefore strongly advised to pay the extra $2,500 for an AWD version.
The only plus lies in the suspension, which is a bit soft but still delivers good comfort. Overall, despite its rugged and modern appearance, you'll feel like you're driving an SUV plucked out of the 1990s.
Conclusion
In addition to the fact that Compass delivers such a disappointing drive, we have to question the very relevance of this model, which confuses people without convincing anyone to choose it over others. Sometimes trying too hard to fill every nook and cranny of the SUV market means you end up with a model in a nook no customers visit.
Consult our listing of pre-owned Jeep Compass vehicles available in your region of Canada

Photo: D.Boshouwers / Jeep
Advantage Hyundai Tucson
In the city or on the highway, the Hyundai Tucson (with 2.4L engine) is quieter, with a more comfortable suspension and a Sport mode that makes driving a little more fun. Driving pleasure is superior, as is the basic warranty and reliability.
Advantage Jeep Compass
The truck-like styling will please a certain clientele. The Trailhawk version is an able off-roader, with a higher driving height and the Selec-Terrain terrain management system, that will take you places that few SUVs in this segment dare to venture out on.
Similarities
Both vehicles can take in up to five passengers, offer a fairly similar space and are comparably priced.
Verdict
Unless you have to cross a track through the forest to go to work every morning, our vote goes without hesitation to the Hyundai Tucson, which outperforms the Compass in all the important areas except off-roading. It's more refined, quieter and better equipped for the same price and it comes with a better warranty. You also have the peace of mind of far superior reliability. We can't say we're shocked to see the Compass struggle to gain traction in such a popular but hard-fought market segment

Photo: Jeep / D.Boshouwers
2019 Hyundai Tucson
We like
Renewed styling
2.4L engine
Better warranty
We like less
2.0L engine
Towing capacity
A bit heavy
2019 Jeep Compass
We like
Uconnect system
Off-road capacity (Trailhawk)
Comfortable suspension
We like less
9-speed transmission
Base model
Lots of roll on winding roads

Photo: Jeep / D.Boshouwers
Specifications
| | | | |
| --- | --- | --- | --- |
| ... | | 2019 Hyundai Tucson | 2019 Jeep Compass |
| | Transmission | 6-sp auto | 6-sp man or 6- or 9-sp auto |
| | Drivetrain | FWD / AWD | FWD / AWD |
| | | 2.0L (AWD) | 2.4L (AWD) |
| | Fuel consumption (city) | 10.8L/100 km | 10.8L/100 km |
| | Fuel consumption (highway) | 9.2L/100 km | 7.6L/100 km |
| | | 2.4L T | |
| | Fuel consumption (city) | 9.9L/100 km | |
| | Fuel consumption (highway) | 8.5L/100 km | |
| | | | |
| | Engine | 2.0L | 2.4L |
| | Type | Gas | Gas |
| | Output | 161 hp | 180 hp |
| | Torque | 150 lb-ft | 175 lb-ft |
| | Cylinders | 4 | 4 |
| | | 2.4L | |
| | Type | Gas | |
| | Output | 181 hp | |
| | Torque | 175 lb-ft | |
| | Cylinders | 4 | |
| | | | |
| | Capacities | | |
| | Cargo space | 877 L, 1,754 L | 800 L, 1,700 L |
| | Fuel tank | 62 l | 51 l |
| | Towing capacity | 608 kg | 907 kg (AWD) |
| | | | |
| | Dimensions | | |
| | Length | 4480 mm | 4394 mm |
| | Width | 1850 mm | 1874 mm |
| | Height | 1650 mm | 1641 mm |
| | Wheelbase | 2670 mm | 2636 mm |
| | | | |
| | Warranty | 5 yrs/100,000 km | 3 yrs/60,000 km |
| | Price | $25,999 to $37,999 | $25,650 to $35,645 |

Photo: Jeep / D.Boshouwers