There was a time when horsepower ratings around 300 were enough to qualify a sedan as being really, really powerful. Thankfully, those days are gone--and the upcoming "V" designated Cadillac CTS expands on the style and performance of the standard V6 model with a supercharged engine and a whopping 550 horsepower.
The ultimate expression of the brands performance and luxury engineering, CTS-V puts the world's fastest sedans squarely in its crosshairs. Simultaneously, it delivers an elevated motoring experience with a slew of technological and engineering advancements like Magnetic Ride Control (MRC), paddle-shifting and the world's first Performance Traction Management (PTM) system.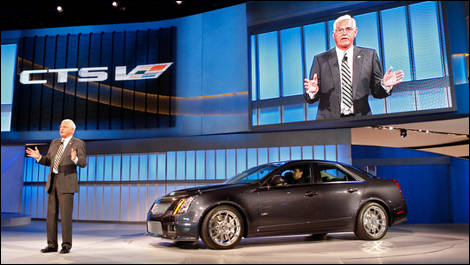 2009 Cadillac CTS-V
PTM allows drivers to fully exploit the car's power by instantly matching its delivery against current traction availability- meaning enthusiastic owners can safely get on the power hard while the computers keep them out of the rhubarb.
"The
CTS-V
represents the full extension of our design, technology and performance capabilities," says Jim Taylor, Cadillac general manager. "The V-Series takes the award-winning CTS sport sedan and elevates it to a position within the club of the world's most exclusive and capable cars." This year, it's going to be exported too- to Europe, the Middle East and Asia.
Subsequently, driving enthusiasts the world over will be able to enjoy CTS-V's supercharged 6.2-litre V8 which develops 550 horsepower and 550 lb-ft of torque. That drives the rear wheels by a six-speed transmission in manual or automatic.
CTS-V hits the pavement later this year.
The Provoq Concept is a vision of a gasoline-free future fora luxury vehicle. The zero-emissions vehicle is a 5-door that is powered by GM'sE-Flex electric propulsion system, similar to what is found in last year'sChevrolet Volt Concept. The Provoq is said to feature a range of 300 miles (480km).
When the CTS sedan was penned, the designers felt that theyjust couldn't stop there, and a two-door version of the car was created. TheCTS Coupe Concept shows that Cadillac's smallest model can look just as goodwith two less doors. The company even hinted that there might possibly be adiesel powertrain in the car's future.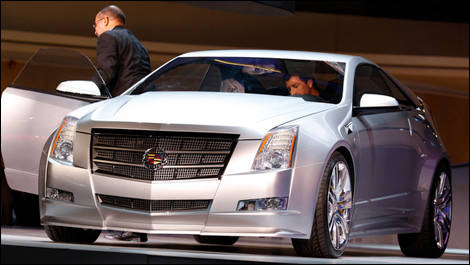 Cadillac CTS Coupe Concept
photo:
General Motors