At the Detroit Auto Show today, Audi announced their worldwide sales objective of 1.2 million units in the next year, and also introduced two models that will help them achieve that goal: the
2012 A6
and its hybrid variation.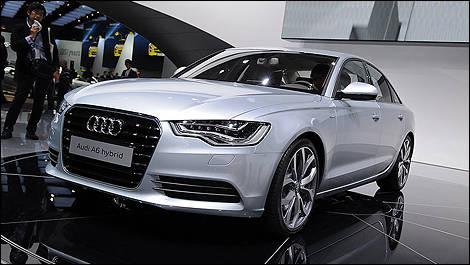 Photo: Matthieu Lambert/Auto123.com
Represented by Audi AG's Chairman of the Board Robert Stadler, the German brand flaunted a more refined A6 that will consume 19% less fuel compared to the outgoing model. It will offer a retractable navigation screen, head-up display, cooled seats with massage function and a premium Bang & Olufsen sound system.
No official word on powertrain choices for the new North American A6 yet. However, the 300-horsepower, supercharged 3.0-litre V6 will likely be carried over from the old model, albeit with possible minor modifications. Manual, automatic and S Tronic automated sequential gearboxes should also be available.
Following its strategy of expanding their hybrid and electric vehicle offering without diminishing driver involvement, Audi also unveiled a hybrid version of the A6.
According to provided information, it will be powered by a 211-horsepower, 2.0-litre turbo four coupled to a 45-hp electric drive motor and a 39-kW lithium-ion battery pack. Mr. Stadler stated that all this technology should allow the A6 to offer the performance of a V6 with 4-cylinder
fuel economy
.
In EV mode, the A6 Hybrid should reach 100 km/h in EV mode and provides a 3-kilometre range at a speed of 60 km/h.
Photo: Matthieu Lambert/Auto123.com
2012 Audi A6