I've driven expensive cars over the years: BMWs, Porsches even a few Ferraris, Lambos and a
Rolls-Royce
. They always get looks—partly because of the emblem on the hood, partly because of the exhaust notes, and partly (mainly?) because there's a chick behind the wheel.
But one car in particular garners a reaction unlike any other. I haven't quite put my finger on the reason yet, but I think I'll give it a shot.
Last week I got behind the wheel of a brand-new
2012 Bentley Continental GT
, while our boy Matt took up position in a 2012 Bentley Mulsanne at the same time. Our two-tone entourage (mine black, his white) took to the streets of Montreal in the middle of Friday afternoon traffic, and the reactions soon followed.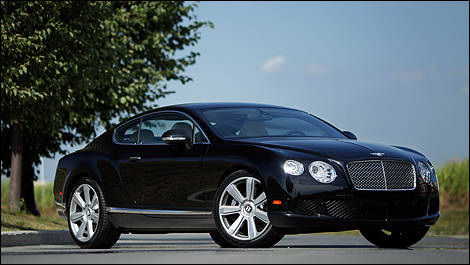 2012 Bentley Continental GT (Photo: Sébastien D'Amour/Auto123.com)
We didn't ride together for the entire sprint, but when we were a duo, the reactions were palpable. It was almost as if a force field was around us and no matter where we went, cars cleared the way. Perhaps it was Matt's uber intimidating and massive chain-link chromed grille menacingly baring down on them in their rearviews that had people skirting out of the way, or perhaps it was just the prestige.
That's the thing about Bentley, it's not just a presence on the road for that moment. It's been a presence on the road for nearly 100 years, and those many decades of automotive history and prestige follow it no matter where it goes or who's behind the wheel. You command a respect on the road that no other car can. There's no jealousy, there's no hatred, there isn't even animosity. People are just in awe.
Case in point: While driving the Continental GT, it needed to partake in a photo shoot along with the Mulsanne. So, while the Mulsanne got some one-on-one attention from the cameraman, I parked the GT. As we were situated beside a golf course, golfers were arriving for their Friday afternoon tee time.
Two such golf-goers happened to park right in front of my GT. As I was getting into the car to leave, they were unpacking their golf bags from the trunk of their Ford Focus. Both were speaking in muted tones about the Bentley and what a stunning car it was. And while I've received many a dirty look as I get behind the wheel of Porsches and BMWs, no such look was given as I slipped into the cream-coloured leather interior of the GT. I got a nearly imperceptible nod from one of the men, and a kind of stunned look from the other.
They knew they were in the presence of automotive greatness.
And as a driver, you know it too. As soon as I pressed the start button on the middle console and the GT purred to life, a classic music station gently wafted through the Naïm sound system and I left it on for the entire ride. There was something quite regal and almost ethereal as the deep, guttural sound of the W12's exhaust note blended with the lazy, gentle piano notes of Chopin's Nocturn No. 12. I felt as if I was part of something quite spectacular, something I shouldn't soon forget—nor would I.
Driving the 2012 Bentley Continental GT meant driving a part of automotive history few ever will. I feel honoured, privileged and a little bit spoiled (I'll admit it). And that's the thing about Bentleys; that's what makes them different. You're not a bratty rich b*tch, you're respected even praised for your automotive steed. And that's what driving automotive excellence is truly all about.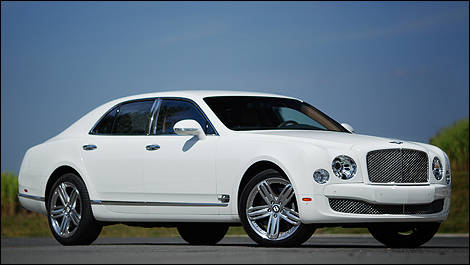 2012 Bentley Mulsanne (Photo: Sébastien D'Amour/Auto123.com)