The Automobile Club de l'Ouest published Thursday the entry list for the 2014 Le Mans 24 Hours classic race.
The technical rules have been changed for this year. The cars entered in LM P1 will use 30% less fuel and make a big reduction in their carbon footprint, while maintaining a level of performance equivalent to that of the cars competing in 2013, thus guaranteeing the race the same nail-biting intensity while using different technologies.
Several major car manufacturers will compete. Thus, in addition to Audi and Toyota, Porsche, which was totally won over by this approach, is making its comeback to the Le Mans 24 Hours 14 years after its last outright victory. Nissan has entered its ZEOD in the context of the 56th garage (place on the grid granted to a technically innovative prototype running outside the overall classification) to prepare for its return to LM P1 in 2015.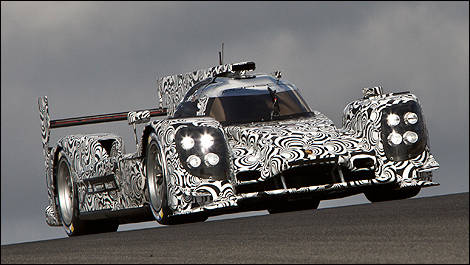 The new Porsche 919 Hybrid LMP1 (Photo: Porsche AG)
In terms of numbers the reigning title holder Audi holds sway with three of its new R18 e-tron quattros to which two Toyota TS040s and two Porsche 919 Hybrids will provide fierce opposition.
In the LM P1-L category reserved for private teams Rebellion Racing and Lotus have entered a total of three cars.
In LM P2, 2014 will be marked by the return of Ligier, one of the great names in French motor sport, back in top-level racing joining Alpine, which has confirmed its entry. It is the first time that Ligier will return to Le Mans since 1975.
This year two cars developed by Onroak Automotive will be at the start. Another comeback of note is that of Dome, and Sebastien Loeb Racing will finally take on the best endurance has to offer.
In LM GTE Pro the Corvette C7s and Viper GTS-Rs are determined to take their revenge on the European GTs led by the works Porsches, the current title holders, the works Ferraris entered by AF Corse, the Ram Racing 458, plus the three Aston Martin Racing V8 Vantages.
In LM GTE, sixteen cars will be at the start including last year's winner, the IMSA Performance Matmut Porsche.
Among the drivers in the GTE Am category making their debut will be Fabien Barthes, the 2013 French GT Champion, who has made a remarkable reconversion to motor sport. American actor Patrick Dempsey is back for the third time after coming close to victory last year.
Shell also announces its return to top-flight sports prototype and GT competition, signing an agreement with the ACO as Official Fuel Partner to the FIA World Endurance Championship (WEC) and European Le Mans Series (ELMS).