From press release
The 82nd 24 Hours of Le Mans kept fans on the edge of their seats from the moment that Fernando Alonso waved the French Tricoleur to the chequered flag at the finish, with elation and despair being experienced in equal measure.
Deserving and joyful winners of the world's most famous endurance race were André Lotterer, Benoît Tréluyer and Marcel Fässler in the No.2 Audi R18 e-tron quattro. Tom Kristensen, Lucas di Grassi and Marc Gené made it an Audi 1-2, but it was a bitter-sweet podium place as that car had been in a strong position for victory until a turbo problem delayed it in the pits.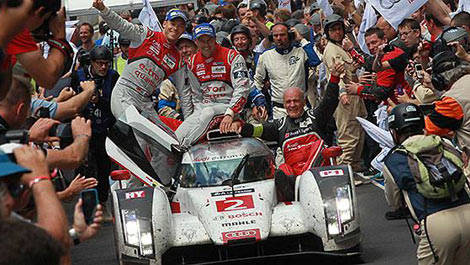 Photo: Audi Motorsport
Recovering from accident damage in the first of two heavy rain showers in the first quarter of the race, and finishing in the final overall podium place was the No.8 Toyota TS040 Hybrid of Anthony Davidson, Sébastien Buemi and Nicolas Lapierre, the result allowing them to keep their lead in the World Endurance Drivers Championship. 
LMP2 was a triumph for ELMS entrants and a disappointment for its FIA WEC runners, and the result was too close to call until the very end. It was the No.38 JOTA Sport Zytek Z11SN of Simon Dolan, Harry Tincknell and late replacement Oliver Turvey who lifted the winner's trophy.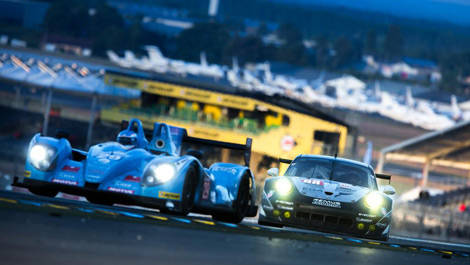 Photo: Adrenalmedia.com/Gabi Tomescu
World GTE Champion driver Gianmaria Bruni, his teammates Toni Vilander and Giancarlo Fisichella were in a class of their own in the LMGTE Pro class, bringing the No.51 Ferrari 458 Italia home for their second class win in three years.
It was undoubtedly a very emotional LMGTE Am class victory for the No.95 Danish-crewed Aston Martin Vantage V8 of Kristian Poulsen, David Heinemeier Hansson and Nicki Thiim, who lost teammate Allan Simonsen last year.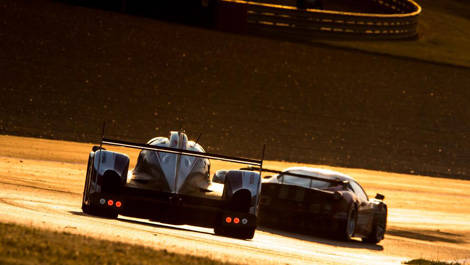 Photo: Adrenalmedia.com/Gabi Tomescu
Race results* – 24 Hours of Le Mans
1 - Treluyer-Fassler-Lotterer (Audi R18 e-tron) - Audi - 379 laps
2 - Genè-Di Grassi-Kristensen (Audi R18 e-tron) - Audi - 3 laps
3 - Lapierre-Davidson-Buemi (Toyota TS040 Hybrid) - Toyota - 5 laps
4 - Heidfeld-Prost-Beche (Rebellion R One-Toyota) - Rebellion - 19 laps
5 - Dolan-Tincknell-Turvey (Zytek Z11SN-Nissan) - Jota - 23 laps
6 - Thiriet-Badey-Gommendy (Ligier JS P2-Nissan) - Thiriet By TDS – 24 laps
7 - Chatin-Webb-Panciatici (Alpine A450b-Nissan) - Signatech - 24 laps
8 - Capillaire-Rast-Charouz (Oreca 03R-Nissan) - Loeb Racing - 25 laps
9 - Brundle-Mardenborough-Shulzhitsky (Ligier JS P2-Nissan) - OAK - 25 laps
10 - Klien-Hirsch-Brandela (Morgan-Judd) - Newblood By Morand - 27 laps
(...)
*Unofficial results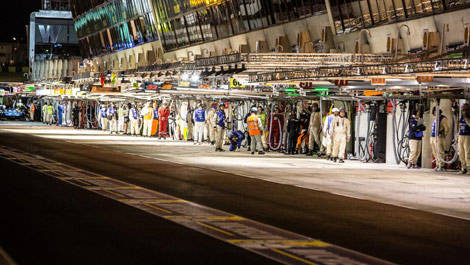 Photo: Adrenalmedia.com/John Rourke
Retirements
Ragues-Taylor-Ihara (Morgan-Judd) - Larbre Competition
Bernhard-Webber-Hartley (Porsche 919 Hybrid) - Porsche
Sarrazin-Wurz-Nakajima (Toyota TS040 Hybrid) - Toyota
Bertolini-Shaitar-Basov (Ferrari 458) - SMP
Perrodo-Collard-Palttala (Porsche 911 GT3-RSR) - Prospeed
Griffin-Parente-Leo (Ferrari 458) - RAM
Rusinov-Pla-Canal (Morgan-Nissan) - G Drive
Mann-Casè-Giammaria (Ferrari 458) - AF Corse
Howson-Bradley-Imperatori (Oreca 03R-Nissan) - KCMG
Belicchi-Leimer-Krahamer (Rebellion R One-Toyota) - Rebellion
Berthon-Gonzalez-Chandock (Oreca 03R-Nissan) - Murphy Prototipes
Munemman-Latif-Winslow (Zytek Z11SN-Nissan) - Graves
Rigon-Kaffer-Beretta (Ferrari 458) - AF Corse
Bonanomi-Albuquerque-Jarvis (Audi R18 e-tron) - Audi
Wyatt-Rugolo-Bird (Ferrari 458) - AF Corse
Minassian-Ladygin-Mediani (Oreca 03R-Nissan) - SMP
Ordonez-Reip-Erdos (Nissan Zeod RC) - Nissan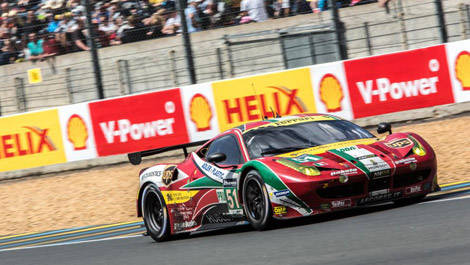 Photo: Adrenalmedia.com/Gabi Tomescu