The No. 8 Toyota TS040 Hybrid LMP1 won the World Endurance Championship 6-hour race at Silverstone this past weekend by using a very special Michelin tire.
The N.8 Toyota ran on a set of Michelin's hybrid racing tire: a slick, which can run in damp conditions.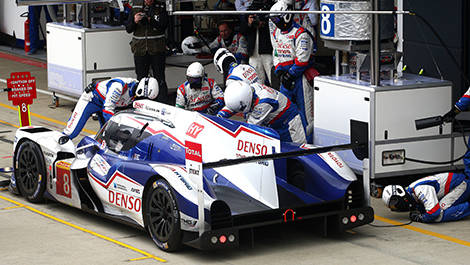 Pit stop of the No. 8 Toyota TS040 (Photo: WRI2)
This unique tire allows drivers to continue running on 'slicks' in wet or damp conditions – even if the track features dry portions – instead of having to switch to a 'intermediate', patterned tire.
This tire is made of a very soft rubber compound that allows the car to run on a damp track. Such a very sticky slick tire is massively quicker than an intermediate tire in these tricky conditions.
Once there too much standing water on the tarmac, the cars have to switch to treaded wet tires.
During Sunday's race, the No. 8 Toyota pitted immediately when the rain started to fall for a set of hybrid tires. That move proved to be right and provided them with the edge over their rivals.