Performance winter driving is something the average Canadian driver probably believes he is a pro at; after all, we spend the better part of 5 months slipping and sliding around our roads, so we must be experts, right? Wrong. And that was made abundantly clear to me when I participated in
Porsche's Camp4 Canada edition
.
Held at the uber fun, snow-covered and ice-laden Mecaglisse track in Quebec, Porsche's Camp4 driving program is designed to show you not only how well Porsches can perform and behave in the white stuff, but also how to handle yourself (as a driver) in sticky situations and at higher speeds.
Sold.
As we drove into the Mecaglisse stomping grounds, lined up on the grid were a bevy of beauties: 2013 Porsche Boxster S, 2012 Porsche Carerra and the brand new 2013 Porsche Carerra 4S. All were sporting proper winter shoes too: Nokians with 3 mm studs. My adrenaline was pumping just at the sight of them.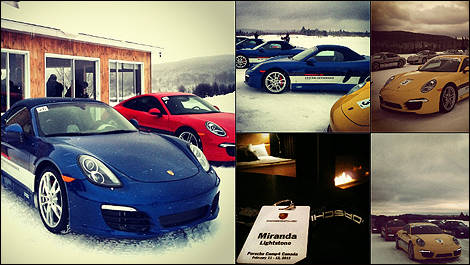 Photo: Miranda Lightstone
But before we were allowed to pilot the lot of them, we were given a few lessons on friction circles (tire contact on the snowy, icy surface), oversteer, understeer, perfecting the drift, and how weight distribution in a car can help or hinder a turn/stop/acceleration. It was a lot to process, but the Porsche Sport Driving School instructors were with us every step of the way while we drove too, offering advice and tips to keep us heading in the right direction -- even if that meant sideways round an icy bend.
As I headed out for my first spin on the oval skid pad in a cherry red Carerra (with Sport Plus activated and the PSM system deactivated as per instructions), my heart was already racing. I was going over the rules in my head (don't look at the snow banks or you'll go there; easy on the throttle; don't over correct; counter steer and power out), so when I was finally given the go, within a few seconds flat I had the RWD Porsche spinning out and straight into the snow bank. Bravo, Miranda, bravo.
As embarrassing as it was, it was an important lesson. I wasn't looking ahead; I was looking at the snow. I gave it too much throttle (because the sound of that flat inline-6 barking out the back is just too intoxicating), and I didn't counter steer quickly enough. And so I tried it again, and again, and again. After a few more over steers, spin-outs and a bit of snow-plowing with the front lip of the Carerra, I finally tamed the RWD beast and managed a rather impressive sideways corner that lasted quite a distance.
I was ecstatic.
And that's the beauty of Porsche Camp4: That feeling you get when you reign in the power, precision and performance of the Porsche you're piloting -- that feeling of satisfaction, power and hunger to do it again, and again, and again.
From the skid pad we headed back to the main track to tackle a slalom course in the AWD 2013 Porsche Carerra 4S'. I fell in love, instantly. All-wheel drive feels like home, and I was instantly at ease, aiming for apexes, allowing the weight of the car to swing me through s-shaped turns as I feathered the throttle to power out and bring those 400 horses out to play on the slick, slippery surfaces.
Of course, I wasn't perfect there either, and quickly learned that the heavy Carerra 4S wasn't as easy to flick around as the C2, it required more finesse and precision to lazily drift around corners, and with the PSM activated was downright obnoxious as the nanny system cut power much too often and corrected when I'd rather it didn't.
Our last stop was to perfect the pendulum drift, or Scandinavian flick, in the
Porsche Boxster S
. Lighter and with a mid-engine set-up, I didn't even make the first corner when I was given the green light. I hit the throttle, turned the wheel and planted the nose of the Boxster S squarely into the snow bank at the apex. Another shining moment.
After a few spin-filled laps, I quickly learned that the Boxster was all about gentle throttle input, soft steering adjustments and looking ahead and anticipating what the car was going to do next to better prepare. I wasn't perfect, but I did manage a few impressive pendulum swings which had me grinning from ear to ear.
Porsche wrapped up our driving day with a group slalom in which they connected the first and second tracks to make one large, twisty, turn-y, elevation-changing course covered in ice and snow (and cones to help us with braking, cornering and turn-ins). Hopping from Carerra to Boxster to Carerra 4S we spent the better part of an hour and a half lapping, putting what we'd learn to practice and having a damn good time of it.
Porsche Camp4 Canada is open to the public, and I'd highly recommend keeping an eye out for an event near you. It's well worth the dollars you'll dish out, if only to learn a little something about yourself as you powerslide through an icy corner, snow billowing out behind you, flat-6 engine growling. Well worth it.