Great Britain is with Italy the only two countries to have been on the Formula 1 calendar every year since the world championship began back in 1950.
As Silverstone prepares to play host to the 65th running of the race this weekend with the 2014 British Grand Prix, we compiled some essential facts…
• Three venues have hosted the British Grand Prix – Silverstone (47 times), Brands Hatch (12) and Aintree (5). Another circuit - Donington - has also hosted a world championship race in Britain, but it was the European Grand Prix in 1993. Silverstone has been the only circuit to stage the British Grand Prix since 1986.
• The victor of the first world championship British Grand Prix (held at Silverstone in 1950) was Giuseppe Farina for Alfa Romeo.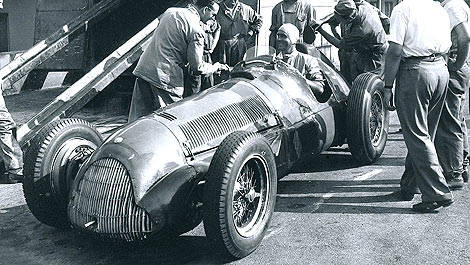 Giuseppe Farina, Alfa Romeo, 1950. (Photo: WRi2)
• British drivers have won the British Grand Prix 16 times. The first to take victory in his home race was Stirling Moss for Mercedes in 1955.
• Ferrari took their first ever F1 World Championship victory at Silverstone in 1951, with Jose Froilan Gonzalez at the wheel.
• At 5.891 kilometres, the current track is the second longest on the calendar, behind only Spa in Belgium which is 7.004 kilometres.
• In the 64 previous British Grands Prix, the pole sitter has been victorious only 24 times. The lowest any winner has started on the grid is 8th - that was Ferrari's Carlos Reutemann in 1978.
• Amazingly, for three consecutive years ('63, '64 and '65) the podium was filled by the same three British drivers – Jim Clark, Graham Hill and John Surtees.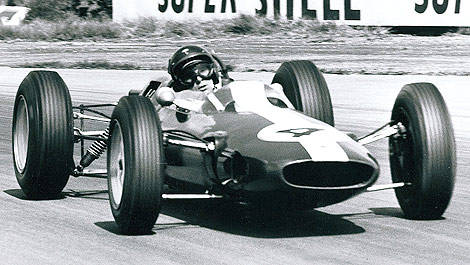 Jim Clark, Lotus-Climax, 1963. (Photo: WRi2)
• Several drivers and teams scored their maiden wins in Britain: Nino Farina and Alfa Romeo (1950), Jose Froilan Gonzalez and Ferrari (1951), Stirling Moss (1955), Tony Brooks and Vanwall (1957), Jo Siffert (1968), Peter Revson (1973), the Williams team (1979), and Johnny Herbert (1995).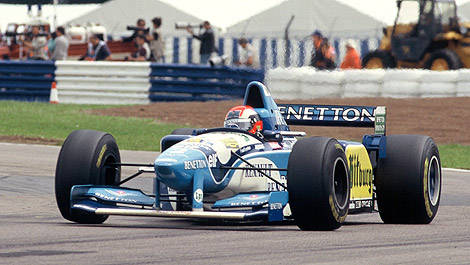 Johnny Herbert, Benetton-Renault, 1995. (Photo: WRi2)