A Formula 1 car requires high levels of technology and techniques that are often derived from the aircraft and aerospace industries.
Grand Prix cars are built from exotic materials such as composites, including carbon fibre and Kevlar, and their aerodynamic performances are tested and evaluated in wind tunnels.
Let's review the articles that explain the technology involved in modern Formula 1 cars.
CHASSIS, ENGINE AND TRANSMISSION
Formula 1 cars must now be powered by 1.6-litre, trubo hybrid V6 engines that can rev up to 15,000rpm, and that are capable of producing some 750 horespower.
The carbon-fibre monocoque also plays the role of a survival shell in case of of an accident, protecting the driver as if he was sitting in a cocoon.
The gearbox has 8 fixed forward gears and reverse is mandatory. It is semi-automatic and the gear changes are activated by pulling on paddles located behind the steering wheel.
Energy Recovery Systems will change the face of F1 from 2014
Pull-rod front suspension explained
Renault reveals 2014 F1 engine
Carbon fibre monocoque explained (+video)
How an F1 team manages engines and transmissions during a season

Looking at the Renault Sport RS27 Formula 1 engine
Renault presents its 2014 electrified V6 turbo engine
A last season for the 2.4-litre, V8 Formula 1 engines
Technical differences between the V8 and the 2014 V6 turbo motors
The components of the new V6 turbo F1 power unit
Integrating the new V6 turbo hybrid engine in the 2014 cars
Starting a Ferrari V8 engine with Sauber F1 Team (+video)
The making of carbon fibre Formula 1 brakes
Photos of Renault's Energy F1 Power Unit (+photos)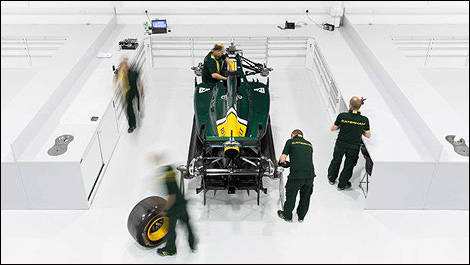 Caterham factory (Photo: Caterham)

ELECTRONICS
Explaining engine torque maps
Pedal map - How it delivers engine power
Red Bull software deemed legal at Hockenheim
Magneti Marelli unviels new hardware for new 2014 rules
Presenting the steering wheel of Sebastian Vettel's Red Bull RB8
A lap of Albert Park's circuit in Melbourne
The steering wheels of the 2013 Formula 1 cars (+photos)
The start procedure of a Grand Prix
AERODYNAMICS
A Formula 1 car is often seen as a fighter jet that can fly on the ground. An F1 car generates enough suction, called downforce that it could -- in theory -- run on the ceiling.
The cars are fitted with flat bottoms and a rear portion, called the diffuser,  that sweeps upwards creating the suction. The front and rear wings also produce a lot of aerodynamic downforce.
What is flow visualisation paint?
Mercedes F1 W03 - 'double DRS' overview
Reviewing Ferrari's updates for Montreal
Model cars used for wind tunnel testing
Red Bull RB9's very thin rear wing in Melbourne

Mercedes AMG's 'FRIC' suspension system
What is a Coanda-style exhaust?
Ferrari's innovative DRS activation system

Explaining the Formula 1 wind tunnels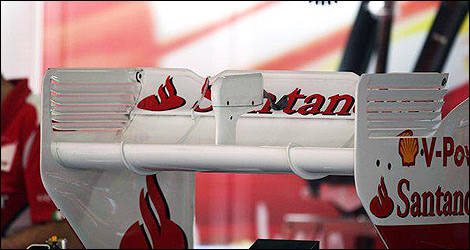 Rear wing (Photo: Ferrari)
CLASSIC
The '70s and '80s were a rich era of extensive technical development. Breakthroughs such as ground effects, wing cars, 6-wheel cars, turbo engines, radial tires and much more all appeared during those years of great technical freedom.

Lotus 72 -- The winningest F1 car ever raced (+photos)
A new breed of Formula 1 cars appeared in 1983 (+photos)
The day Williams ran a car without suspensions (+video)
Williams tested a CVT transmission back in 1993 (+video)
AND MORE!
Explaining the parc fermé procedure
Overview - 2013 rule changes at a glance
Explaining the activation of the Drag Reduction System (DRS)
The steering wheel of the Caterham CT03 F1 car (+photos)
The steering wheel of Sebastian Vettel's Red Bull RB9
Explaining performance variance between F1 cars
How to start a Formula 1 engine (Part 1)
How to start a Formula 1 engine (Part 2)
The secrets of ballast in a Formula 1 car
Explaining the installation lap (+video)
A look at the 2014 Formula 1 technical rules