Canadian racing legend Gilles Villeneuve was without doubt one of the most popular Formula 1 drivers of all time, despite a short career that saw him win just six of the 67 Grands Prix he contested between 1977 and 1982.
More than for his victories, Villeneuve's acclaim around the globe was for his great human qualities, his honesty and his stunning determination. His driving style and passing manoeuvres were incredibly spectacular, and he never, ever gave up despite the mechanical gremlins or the bad luck. He always gave his very best, whatever his starting position on the grid happened to be.
Here is a collection of the features, photos and videos we posted during the 2012 season to commemorate the 30th anniversary of his tragic death that took place Saturday May 8, 1982, during the second qualifying session for the Belgian Grand Prix at Zolder.
The early days
At a young age, Gilles Villeneuve fulfilled his need for speed in a very unusual manner, competing in drag racing and in snowmobile racing on icy ovals.
He then followed his first road-racing course before he went on to win the Quebec Formula Ford 1600 championship and the North American Formula Atlantic series.
Breaking the ice (+photos and video)
His first driving course
His stunning Formula Ford 1600 debuts (+photos)
Making his mark in Formula Atlantic (+photos)
His maiden Formula 1 Grand Prix
Beaten by Villeneuve in the Formula Atlantic race held in the streets of Trois-Rivieres in 1976, British F1 driver, James Hunt, was so impressed that he spoke very highly of the young Villeneuve to his McLaren boss, Teddy Mayer.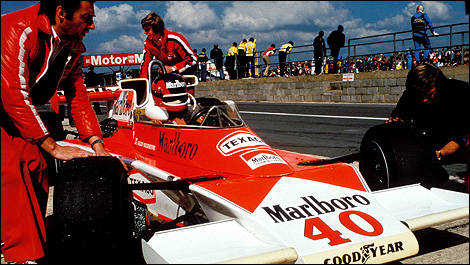 His first Grand Prix with McLaren in 1977. (Photo: WRI2)
Villeneuve contested his first F1 race at the British Grand Prix at Silverstone in July 1977.
His first Formula 1 contract with McLaren!
His first Grand Prix with McLaren at Silverstone (+video)
His first Grand Prix with McLaren in 1977
The Ferrari years
Against all odds, Enzo Ferrari himself chose Villeneuve at the end of 1977 to drive the prestigious Scuderia Ferrari. A teammate of Carlos Reutemann in 1978, Villeneuve captured his first F1 victory in front of his home crowd in Montreal in October 1978.
Video of his lap of Zandvoort circuit on three wheels!
A few stories from his business manager, Gaston Parent
Video of his first Formula 1 victory in Montreal
Ferrari F1 car driven by Gilles Villeneuve vs Italian jet fighter (+video)
1978 Long Beach Grand Prix (+videos)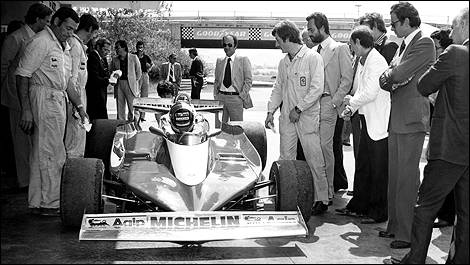 Gilles Villeneuve behind the wheel of the 312T3 at Fiorano. (Photo: Ferrari)
Memories from his arch rivals
Gilles Villeneuve's rivals talk about the racecar driver, but also the great human being that Villeneuve was.
When Patrick Tambay took over the No. 27 Ferrari
Memories from Alan Jones
Memories from Jean-Pierre Jarier
Testimony from his friend René Arnoux (+video)
John Watson's words about the tragedy
Mario Andretti's testimony
May 8 commemoration
The 30th anniversary of Gilles Villeneuve's tragic death
Remembering Gilles Villeneuve's tragic death
The tragic loss of Gilles Villeneuve
Video of Jacques Villeneuve driving the Ferrari 312 T4 of his father Gilles (+video)
Jacques Villeneuve drives his father Gilles' Ferrari 312 T4 at Fiorano
Details of the Ferrari 312 T4 Jacques Villeneuve will drive at Fiorano (+photos, video)
Rare and never published photos
Rare photos of the career of the late Gilles Villeneuve (Part 1)
Rare photos of the career of Gilles Villeneuve (Part 2)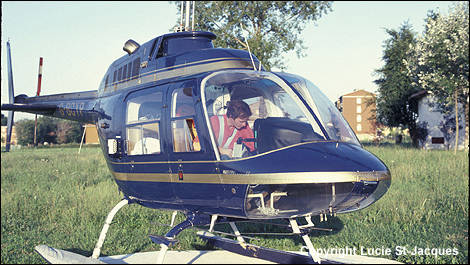 Gilles Villeneuve ready to fly Walter Wolf's helicopter. (Photo: Lucie St-Jacques)