Four-time World Champion Alain Prost declared that Jules Bianchi's terrible crash during Sunday's Japanese Grand Prix was not just a freak accident, as some people tend to say.
Talking in French to TV broadcaster
Canal+
, Prost – who's never been comfortable racing in the rain – said the Formula 1 world needed to identify what did not work correctly in this accident.
The former owner of the Prost GP F1 team said he does not understand why a heavy tractor moved trackside when the Safety car was not deployed.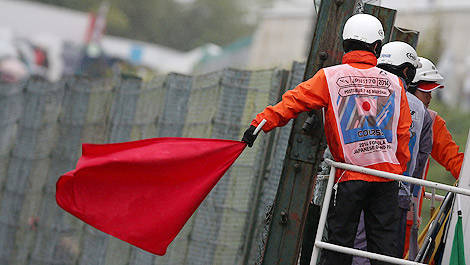 Red flag in Japan after Bianchi's crash. (Photo: WRi2)
"This is not what I would call a 'normal' accident. A mistake has been made, and that's very sad", said Prost.
"It's been a long time since we saw such a big accident on a Formula 1 circuit. For me, it's not a freak accident, and this makes me very angry".
Prost explained that if the cars are a lot safer than ever before, it is not always the case with some track procedures.
"There's been fundamental mistake made. There's been great progress made to make the F1 cars and circuits as safe as possible. What happened here [in Japan] is just unbelievable. That problem needs to be addressed. I think we should have seen it coming. It was evident that the conditions were extremely difficult out there. We need to fix that issue once for all", Prost added.
The Frenchman has himself witnessed several big crashes during his career, including those of Gilles Villeneuve, Didier Pironi, Riccardo Paletti and Elio de Angelis.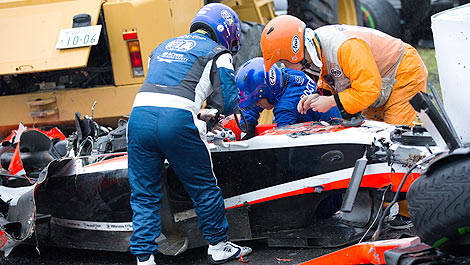 Jules Bianchi's crash at Suzuka. (Photo: WRi2)
"It's been 20 years since he had such a big crash in F1. It's not a racing accident. It was caused by something that has nothing to do with racing", Prost continued.
"This [new] generation of F1 drivers is not used to seeing big accidents. Bianchi's accident makes me very angry, because I have the feeling of being back in the 80s when this type of accident happened every two or three races. This brings me back very bad memories", Alain Prost ended.