From GMM
Red Bull Racing director Christian Horner has admitted it is "unlikely" the team will catch up with dominant Mercedes in 2014.
Despite the fact that Daniel Ricciardo won two races so far this season, Horner doubts the RB10 can overcome or compensate for what he describes as a 65 horse power deficit to dominant Mercedes through the rest of the season.
"In all honesty it's probably unlikely," Horner said. "If you look at the gap, it's a significant gap.
"Last year was more of a level playing field on the power unit side. But obviously with the big regulation change, Mercedes are in a position of real dominance; dominance we haven't seen for a long, long time.
"We're keeping pushing, we're keeping the hammer down and hopefully after the summer break we'll have some circuits coming up that we will be able to get even closer," Horner added.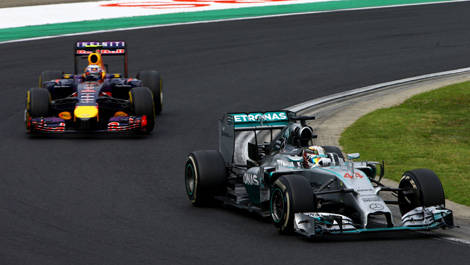 How long will Red Bull stay behind Mercedes (Photo:WRi2)
"But I don't think you'll see a situation like we had last year."
Given its slide behind Mercedes in 2014, Red Bull is at another crossroads -- its highly-rated technical director Adrian Newey, frustrated with the sport's ever-tightening rules, has decided to slip into a background role.
"It's no secret that Adrian wanted to lighten his commitment a little," Horner is quoted by Italy's Autosprint, "but it doesn't mean that we are going to look for a new technical director.
"He will still be very involved with the technical choices," Horner explained, "helping us to choose a direction in the design and development.
"We have a very strong technical team," Horner insisted. "The situation allows us to promote and develop the people who work behind Adrian and give them more responsibility.