Team Principal of Caterham F1 Team, Frenchman Cyril Abiteboul reflects on the season so far and the brilliant performance of his drivers, Giedo van der Garde and Charles Pic who finished in 14th and 15th places respectively in Hungary.
"It's been an interesting first half of season for the team and for me personally," said Abiteboul during an interview published by the team.
"As far as we're concerned, we've been fighting with Marussia who have done a great job over the last year. We started the season clearly behind them, but over the last three races a comfortable gap has appeared between us and them, which shows our rate of development. That's also helped us on a couple of occasions to race a Williams or a Sauber and that shows where we're setting our targets," he added.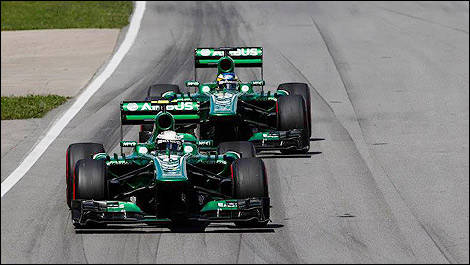 Photo: Caterham F1 Team
Abiteboul admits that the factories move of August of last year was distracting, yet necessary.
"Since moving to Leafield last August, and especially since the start of 2013, the focus was on making sure the factory was up and running and putting ourselves in control of our manufacturing process, reducing lead times and increasing economic efficiency, with the right level of integration," he explained.
The French engineer also confirmed that the team was hiring new people and was heavily involved with the design of its 2014 challenger.
"We must take advantage of the opportunities 2014 will bring and we're already above our initial targets for next year, so much so we're looking at reviewing them for more aggressive ones! The car has been in the tunnel for a while now, and we're seeing good numbers, all of which is being achieved while we keep progressing this year, hopefully showing without a doubt that we are on the right path to reduce the gap to the midfield," he said.
The Caterham boss is also pleased with the performance of his two drivers.
"As a rookie, Giedo (van der Garde) has had his challenges, but his last race in Hungary was a good reward for his determination and his positive attitude that the team loves. He's also going to be helped by the new tires which will definitely suit his style better than those used for the first nine races," Abiteboul explained.
"For Charles (Pic), after only one year of experience with Marussia, he immediately made a positive contribution to our development strategy this year and that's a clear sign of his maturity and of his determination. It's possible the new tires take away one of his strengths over the other drivers as he was very good at tire management, but therefore he must adapt and develop other skills in terms of pure race pace to cope with what's to come. He demands a lot from himself and from us, and I like that. I think that sort of spirit will help push the team forwards," Abiteboul concluded.