Sunday's Brazilian Grand Prix will mark the last Formula 1 race for Cosworth, putting an end to a brilliant era.
Cosworth was founded in 1958 in Great Britain by Mike Costin and Keith Duckworth.
Their first Formula 1 engine, the acclaimed DFV came to life in 1966 when Colin Chapman, Lotus Cars founder and principal of Team Lotus, persuaded Ford to bankroll Duckworth's design for a new lightweight three-litre F1V8 engine.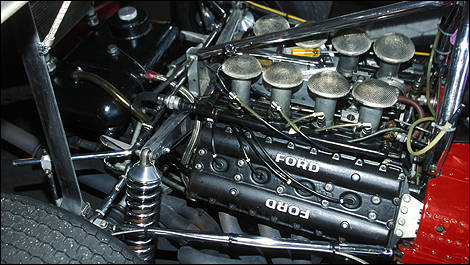 The original Ford Cosworth DFV (Photo: WRI2)
The DFV won on its first outing, at the 1967 Dutch Grand Prix in the hands of Jim Clark, fitted to a Lotus 49. From 1968, the Ford Cosworth DFV was available for purchase to any F1 team that wished it.
The DFV is the second winningest engine in F1 behind Ferrari, having claimed 176 victories.
Cosworth then produced several other F1 engines to match the current regulations such as the V6 Ford turbo, the HB, the Zetec-R, the CR series and the CA series.
In 2004, American millionaires Kevin Kalkhoven and Gerald Forsythe purchased the Cosworth and Pi Group companies from Ford.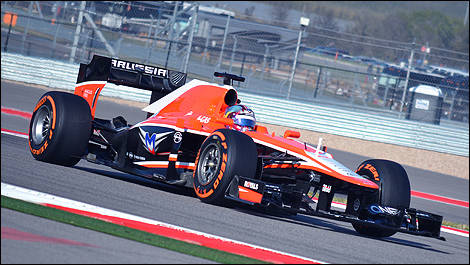 The Cosworth-powered Marussia, US Grand Prix in Austin (Photo: René Fagnan)
The Cosworth CA2013 will power the Marussias of Jules Bianchi and Max Chilton for the last time Sunday at the Brazilian Grand Prix.
Statistics* of the original Cosworth company (1967-2004):
567 Grands Prix
38 seasons
68 constructors
323 drivers
176 victories
139 pole positions
160 fastest laps
535 podiums
4,336.50 points
7.65 pts / GP
114.12 pts / season
10,695 laps in the lead
49,290 km in the lead
260,847 laps completed
1,227,648 km covered
Claimed drivers' world championship in 1968, 1969, 1970, 1971, 1972, 1973, 1974, 1976, 1978, 1980, 1981, 1982, 1994

Statistics* of the new Cosworth company (2005-2013):
113 Grands Prix
6 seasons
8 constructors
37 drivers
1 pole position
1 fastest lap
127 points
1.12 pts / GP
21.17 pts / season
5 laps in the lead
25 km in the lead
25,162 laps completed
127,905 km covered

* Statistic provided by Statsf1.com