From GMM
Fernando Alonso is locked in "tough negotiations" with McLaren, the F1 correspondent Luis Vasconcelos claims.
Although the Spanish driver insists Sebastian Vettel's switch to Ferrari is a mere symptom of his own plans for the future, there are sections of the media who think the German actually caught Alonso off guard.
Some well-placed Spanish correspondents, for instance, think Alonso expected to be replaced at Ferrari by Lewis Hamilton, therefore opening up the prime seat at dominant Mercedes.
That suspicion would tie in with the fact that, like the rest of F1, even Red Bull was apparently caught off guard by Vettel's news, which was revealed to the team mere hours before it was made globally public.
But when Red Bull made it official, the energy drink company simultaneously closed the door to Alonso, saying the junior Daniil Kvyat will be promoted instead.
"This is a better solution than to have a star in the final years of his career," Dr Helmut Marko insisted to Austrian broadcaster
Servus TV
on Monday.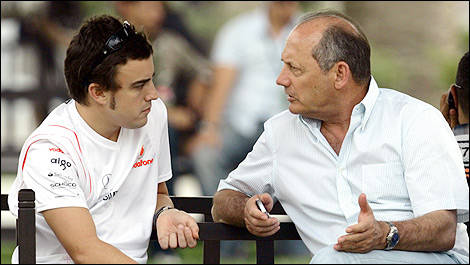 Fernando Alonso and Ron Dennis, back in 2007. (Photo: WRi2)
Vasconcelos, reporting for the Finnish newspaper
Turun Sanomat
, said Red Bull's Marko "told Kvyat the good news just half an hour before it was officially announced".
Arguably the best driver in F1 but also perhaps the most temperamental, the dramatic turn of events may have left Alonso with only two choices for the 2015 season.
Vasconcelos claims that taking a sabbatical next year, just as Alain Prost had to do when he left Ferrari acrimoniously in 1991, is now a very real possibility for Alonso.
His only other option appears to be McLaren-Honda.
But those negotiations, Vasconcelos claims, are "tough". Indeed, a McLaren source told us "no one" currently knows how the situation with the Woking team's 2015 driver lineup will ultimately turn out.
"The Spanish star wants only a one-year contract, while Dennis is insisting on a commitment of at least two years," said Vasconcelos.
A one-year deal would leave Alonso theoretically free to leave McLaren after earning up to an incredible EUR 40 million in 2015, and then jump into Hamilton's plum seat at Mercedes for 2016.