Thursday, Auto123.com interviewed Gilles Simon, the technical director of PURE, the new and fully independent engine supplier scheduled to make its debut in Formula 1 racing in 2014.
The French engineer started his career with Renault before moving on to Peugeot Sport, where he worked on the screaming, Le Mans-winning V10 motor. But Simon is mostly known as the long-time director of the famed Scuderia Ferrari's engine department.
In August 2011, Simon was appointed technical director of PURE Corporation (Propulsion universelle et récupération d'énergie), the company Craig Pollock created to supply turbo engines to F1 teams from 2014 under the new engine regulations.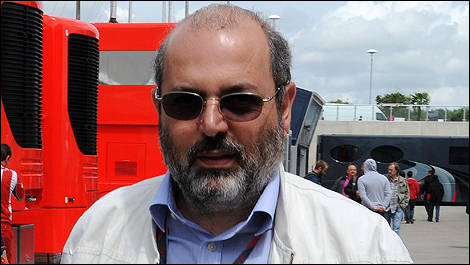 Gilles Simon, technical director, PURE. (Photo: WRI2)
During our exclusive interview, Gilles Simon wanted to reassure F1 fans, saying that the 2014 cars will be exciting to watch – and hear.
"I think that a V6 engine revving up to 15,000 rpm won't be ridiculous at all," said Gilles Simon to Auto123.com.
"I agree that the noise is part of the show in motorsports. But when classic cars such as a Ferrari Testarossa of the '50s are being fired up, you have to admit that it's incredibly impressive. And yet, these old engines don't exceed 7,000 or 8,000 rpm. So it's important to keep things in perspective," Simon added.
When comparing the sound of the current V8 engines to the new V6s, Simon wants to put everyone's mind at ease.
"The sound of the V6 engine will of course be different. It'll probably be a bit lower, but I really don't think it'll be unexciting for all that. We'll be using huge turbines that rev extremely quickly, up to 200,000 rpm. That big turbine will be making a lot of noise, whistling really loudly. No, I the new cars won't be boring at all," Simon added.