From GMM and Autosport
Gerard Saillant, the well-known trauma surgeon with close links to Jean Todt and Michael Schumacher, has arrived in Japan to get involved with Jules Bianchi's fight for life.
Meanwhile, Grand Prix Drivers' Association GPDA new president Alex Wurz has urged his colleagues to temper their reactions to Bianchi's horrific accident.
"Obviously, such a terrible accident throws up a lot of questions and opinions," said Wurz to
Autosport
magazine.
"By nature, we all like to have answers, conclusions and solutions as soon as possible. But we shall not jump to conclusions without having all evidence and information, and also having the chance to hear other parties' point of view," Wurz explained.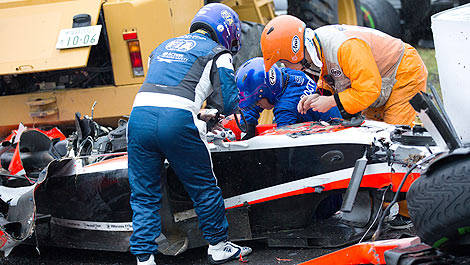 Doctors around Jules Bianchi, after the crash. (Photo: WRi2)
Wurz has also warned that Formula 1 drivers should not discuss the accident in public while it is still being understood.
"We would rather not debate this accident until we have all information collected. Most certainly, I recommend to all the drivers to refrain from a public discussion. We need to give the experts time to analyse everything and, of course, we offer our full support to whichever authorities may be involved in this process," the Austrian added
"But foremost, we want to support the family and friends of Jules. We do this in the best way, not by inflaming knee-jerk conclusions," he said.