In its latest web edition, UK's Black Book analyses Greenpeace protests that marred the Grand Prix of Belgium at Spa-Francorchamps, an event fully sponsored by oil giant Shell.
According to the well informed sports business magazine, Shell is one of the major spenders in Formula One, paying around US$30 million per year to sponsor Ferrari, with whom it has a contract up until the end of 2015 and, since 2011, investing a multi-million dollar sum with Formula One itself to title sponsor the Belgian Grand Prix.
The oil company can't have been too impressed with the security arrangements at the picturesque Belgian road course on Sunday, which allowed Greenpeace to infiltrate the grandstand and Shell-branded podium to protest at the company's arctic drilling activities.
'Arctic Oil? Shell No!' read a banner unfurled on the grandstand after Greenpeace micro gliders landed on the roof in the hour before the race.
More banners, controlled remotely, were revealed on the podium as the national anthems rang out, reportedly having been placed there up to two weeks earlier. They were swiftly removed by Formula One's podium manager, Alex Molina out of sight of the world feed television broadcast, which turned a blind eye. Hugh Mitchell, Shell International's chief human resources and corporate officer, presented the trophy to the winning constructor as planned.
"I can certainly respect the technology, sportsmanship and innovation that are at the heart of the Formula One Grand Prix," wrote Kumi Naidoo, the executive director of Greenpeace in a blog post.
"But what I can't respect is what the sponsor of the event, Shell, is doing to the Arctic."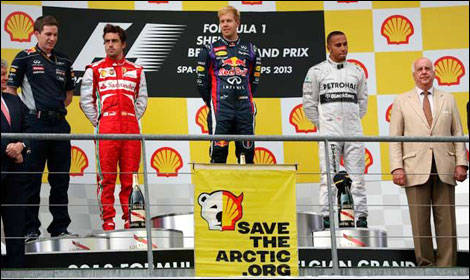 Photo: WRi2
An accompanying video of the podium ceremony, shot from the grandstand and later posted by Greenpeace, added: 'Banner material: €50. Four car radio antennas: €88. Embarrassing Shell on its biggest PR day of the year? Priceless.
What next for Spa?

There will be arguments over the success or failure the protest, given the lack of TV impact, but this was the most serious security breach at a Grand Prix since Neil Horan, dressed as a priest, ran along the track at the 2003 British Grand Prix.
Circuit officials from Spa-Francorchamps should, at the very least, expect a call from world motorsport's governing body, the FIA, an organisation which once banned Jerez from staging races following political interference in the podium ceremony in 1997.
Black Book mentions that the Belgian F1 race has always walked a financial tightrope, despite being one of the most popular races amongst fans. With more venues than races seemingly available in the next couple of years - Russia on the horizon, a New Jersey race still not dead, Austria returning next year and Mexico City emerging over the weekend as a potential race host in 2014 or 2015 - it was the worst possible time to have failed to meet the sport's high venue standards.