The imminent threat to Japan from typhoon PHANFONE is gradually diminishing.
The current forecasts from Formula 1 Weather Service UBIMET indicates the arrival of rain bands, these at times heavy, for Sunday and, with the centre of the typhoon will pass close by on Monday morning.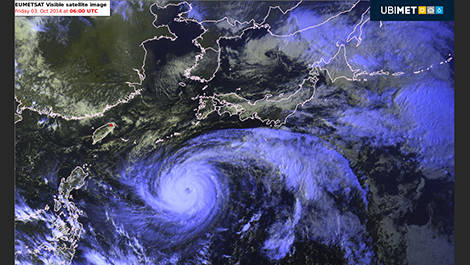 Satellite Image of PHANFONE from Friday, 2nd October 06 UTC (08 CEST) (Image: JMA / UBIMET)
Wet race likely scenario

For Sunday there are no significant changes to previous UBIMET-forecasts.
The rain will largely be persistent - possibly with an occasional dry interlude - but also it will become heavy at times, this more likely after midday.
Thus, at the scheduled race start time by 15:00 local time (8:00 CEST), a wet race seems to be a likely scenario. The on-site expert on-site meteorologists expect the passage of the typhoon centre between the early and the afternoon hours of Monday.
"Probably PHANFONE will pass to the southeast of Suzuka. There are also model solutions that can draw the eye directly on the race circuit. In both cases severe structural damage is expected on Monday, with possible widespread severe damage from the second case," they predicted.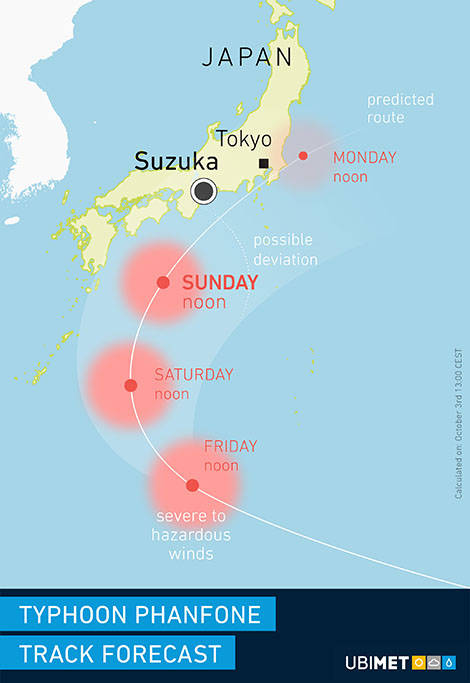 Estimated storm track from Friday 3rd until Monday 7th October, time information in Japanese local time. (Image: UBIMET)