Former Formula 1 driver, Juan Pablo Montoya believes the DRS has devaluated the art of overtaking in F1.
The Drag Reduction System has been introduced in Formula 1 in 2011 to increase the show with plenty of overtaking.
"It's good for the show. I mean, it makes a better show because people pass people, but I think overtaking is an art. Now it's like giving Picasso Photoshop," Montoya said during an exclusive interview on
The Racer's Edge
.
The Colombian explains a lot more effort was needed to overtake before the DRS feature.
"You had to think and you had to risk a lot. You don't have to fight for the positions now. You come into the straight and if you are close enough you have DRS and you've cleared the guy by the next corner," comments Juan Pablo Montoya.
Departed from Formula 1 in 2006, the popular Colombian spent several years in NASCAR and returns to IndyCar this season.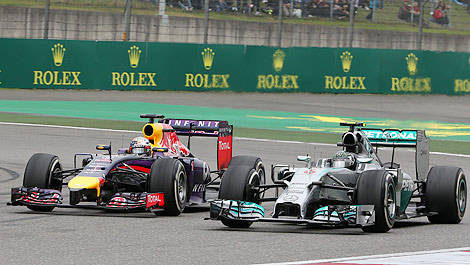 Sebastian Vettel (Red Bull) and Nico Rosberg (Mercedes). (Photo: WRi2)