McLaren's big boss Ron Dennis and F1 rookie Kevin Magnussen have known each other for quite a long time.
That's because Magnussen's father, Jan, drove for McLaren in the late 1990's. Without his father, Kevin might have never met joined McLaren or reached F1.
"I don't think I would be here if it wasn't for him (Jan) because McLaren probably wouldn't have looked at me," Magnussen Jr told
Crash.net
.
"I can't say for sure, but I can't say they would because they looked at me so early and took me in to the Young Driver Program very early, before I had any good results. All my results came after; I wasn't even in F3 when I joined them."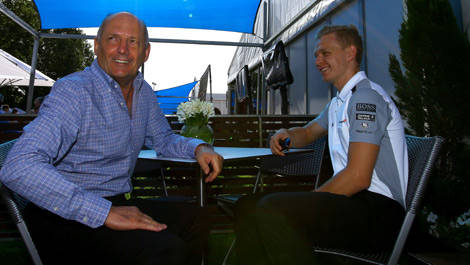 Ron Dennis with Kevin Magnussen (Photo: WRI2)
The F1 rookie still remembers one of his first encounters with the McLaren supremo.
"When my dad was with McLaren, I got a birthday present from Ron and I must have been four years old or something," he says.
"He gave me that birthday present and bought a card and it just said 'If you get as good as your dad one day give me a call'. Then one day about ten years later, my manager saw that card – my mum had saved it and showed my manager – and my manager said 'Ah, let's call him!'"