From press release
McLaren confirmed at Monza that iconic coffee brand Segafredo Zanetti - which returns to Formula 1 after a 20-year absence - has become a new partner of the team.
The Italian brand is part of the Massimo Zanetti Beverage Group - the largest private company in the international coffee industry.
Segafredo Zanetti was first involved in Formula 1 between 1984 and '94. It partnered with McLaren between 1984 and '86, working with iconic world champions Niki Lauda, Alain Prost and Keke Rosberg. The brand also sponsored the car, overalls and helmet of legendary champion Ayrton Senna during his first year in Formula 1 in 1984, and during his final season in the sport in 1994.
Group president Massimo Zanetti said: "The Segafredo Zanetti name has long been associated with motorsport, and Formula 1 in particular, and our decision to return to grand prix racing with the renowned McLaren team signals our intention to further strengthen and grow the powerful Segafredo Zanetti brand.
"When you think of Formula 1, you doubtless think of McLaren; one of the teams that has achieved truly legendary status. Equally, in the coffee world, exactly the same is true of Segafredo Zanetti – and, together, we can achieve something special.
"Emotionally, too, my long friendship with Ayrton Senna also influenced my decision to return to McLaren. On the 20thanniversary of his death, it seems appropriate to restart Segafredo Zanetti's involvement with Formula 1, as well as underline my commitment to my long-standing relationship with Ron Dennis."
McLaren Group chairman & CEO Ron Dennis CBE said: "I'm personally delighted that Massimo Zanetti has chosen to return to Formula 1 with McLaren. He's long supported both McLaren and Ayrton Senna, and his passion for motorsport courses through the Segafredo Zanetti brand. As a McLaren partner, together we have a long backstory; today, more importantly, we have a lot more that we can say together.
Since qualifying session at Monza, Segafredo Zanetti branding appear on the rear-wing endplates and driver overalls.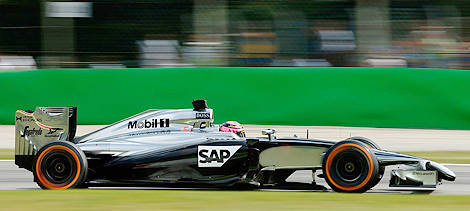 Segafredo logo on the McLaren MP4-29 at Monza. (Photo: McLaren F1 Team)