For most teams, everything did not go according to plan in this first day of Formula 1 testing at Circuito Jerez de la Frontera in Spain.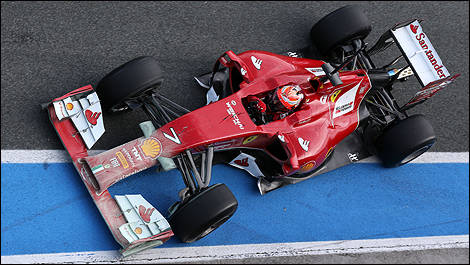 Kimi Raikkonen, Ferrari (Photo: WRI2)
Most teams limited their running to a series of installation laps while McLaren was not able to join the fray, the MP-29 suffering with electrical issues.
Lewis Hamilton was the first driver to take on to the track, and the first to complete a series of significant lap times in the Mercedes W05.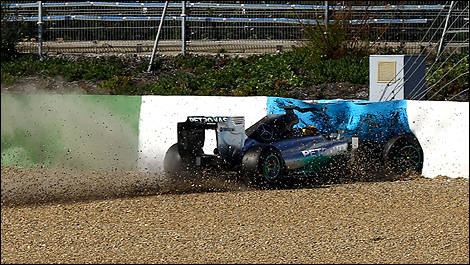 Lewis Hamilton's crash, Mercedes (Photo: WRI2)
The Brit managed to complete 18 laps of the Spanish circuit until a front wing failure on the following lap curtailed his track time shortly before midday.
At the end of the day, Kimi Raikkonen moved ahead of Hamilton on the charts, setting a 1m27.104 in the Ferrari F14 T.
The Finn also completed the greatest number of laps with 31.
"We had a lot of new things to learn today" – said Raikkonen to www.ferrari.com – "Even if we would have liked to do more laps, I think that for a first day it was alright. Towards the end, when the track was damp, we chose not to take any risks. Now we have a lot of work ahead of us, but all in all, we are pleased with our first day."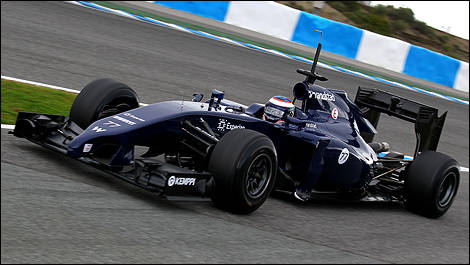 Valtteri Bottas, Williams (Photo: WRI2)
Valtteri Bottas, driving the Williams-Mercedes, was third but almost three seconds to Raikkonen's time.
Mexican Sergio Perez was fourth in the Sahara Force India Mercedes, some six seconds slower than the Ferrari.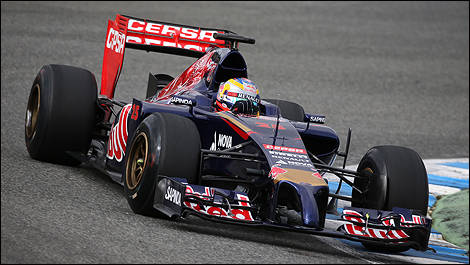 Jean-Eric Vergne, Toro Rosso (Photo: WRI2)
Jean-Eric Vergne was fifth in the Renault-powered Toro Rosso. The STR9 was quick out of the box, but the car stopped early out on the track with a software issue.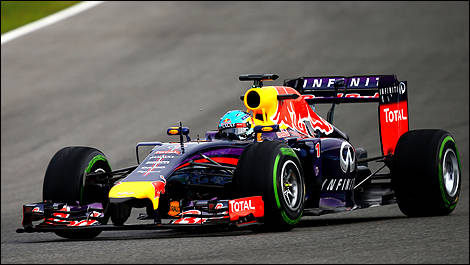 Sebastian Vettel, Red Bull Racing (Photo: WRI2)
Four-time World Champion, Sebastian Vettel managed only three installation laps in the Red Bull Racing RB10.
Like Vettel, rookie Marcus Ericsson managed just one exploratory lap in the CT05-Renault.
As a reference, the best lap time set last year here at Jerez was a 1m17.879 set by Felipe Massa in the Ferrari.
Jerez winter test*, Day 1:
Pos Driver Team Time Gap
1. Kimi Raikkonen Ferrari 1m27.104s
2. Lewis Hamilton Mercedes 1m27.820s +0.716s
3. Valtteri Bottas Williams-Mercedes 1m30.082s +2.978s
4. Sergio Perez Force India-Mercedes 1m33.161s +6.057s
5. Jean-Eric Vergne Toro Rosso-Renault 1m36.530s +9.426s
6. Esteban Gutierrez Sauber-Ferrari 1m42.257s +15.153s
7. Sebastian Vettel Red Bull-Renault No time
8. Marcus Ericsson Caterham-Renault No time
*Unofficial timing