From Lotus
Lotus F1 Team's new deputy team principal Federico Gastaldi is confident his team can still turn its season around, despite a difficult start to the 2014 campaign, last week at the Australian Grand Prix.
Both drivers Romain Grosjean and Pastor Maldonado finished the race on the sidelines with Energy Recovery System (ERS) issues.
"I think it would be right to say that the start of the season has been a tough wake up call for everyone," confirmed Gastaldi, who has been with the Enstone team since the Benetton days.
Provided Renault can solve their own issues with the new turbo V6, he is adamant his team can thrive.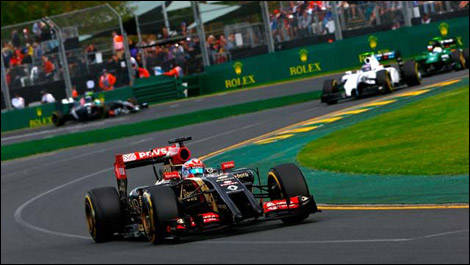 Pastor Maldonado, Lotus E22 (Photo: WRi2)
"I know this team is the best in the paddock, there is absolutely no doubt about that in my mind. We have some of the most committed and experienced personnel around and they all have a winning mentality.
"We need to keep learning and if everything goes as we anticipate, in collaboration with Renault Sport F1, then we will be in a position to continue progressing for Bahrain and when the Championship comes back to Europe in May," he adds.
"(So) I'd say wait and see what we can really achieve with the E22."