Lotus F1 Team has confirmed what caused the left front brake failure on Kimi Raikkonen's E21 during Sunday's Grand Prix of Belgium.
It was evident that something was going wrong with Raikkonen's brakes as the car was surrounded by a cloud of black carbon dust at every braking zone.
The disc kept overheating until the engineers called the Finn in, as it became too dangerous to drive on Spa-Francorchamps' ultra-fast circuit.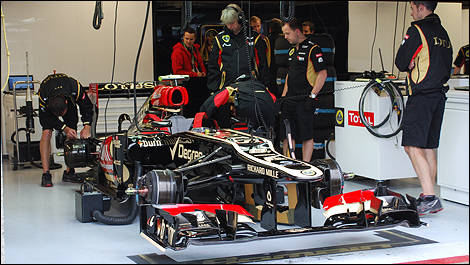 Photo: René Fagnan
"A loose visor tear-off got stuck inside the left front brake duct, causing the disc to overheat," a Lotus spokesman told
Auto123.com
.
Drivers apply these thin, plastic tear-offs on top of their helmet visors to protect them. They rip them off when they become covered with debris or oil.
British Autosport magazine wrote that it learned at the first pit stop, the team discovered the visor tear-off lodged in the cooling channels of the brake duct.
Although Lotus was able to remove it, the brake disc was already too hot and could not be cooled enough. Eventually, it failed completely.