It is a known fact that the Ferrari V6 power unit is overweight and underpowered.
Autosport magazine's Alberto Antonini Tursday wrote that Ferrari engineers came up with a simple change that they got tested by one of their customer teams, Marussia.
The 059/3 power unit has been designed without the use of heat shields, simply because of a lack of space at the rear of the F14 T.
Additionally, the exhaust pipes of the Ferrari motor are longer than those of the rival engines. Therefore, the exhaust gases that are blown into the turbo are a bit "cold", resulting in a lack of power.
Last February, the three F1 power units were homologated and frozen for the rest of the year. The Mercedes and Renault were homologated with heat shields, but not the Ferrari.
Ferrari engineers soon realised that the turbo was running at too cold temperatures in the car.
Ferrari then asked the FIA to do some changes, but the sanctioning body turned them all down because they were considered as "major modifications".
Recently, Ferrari tested a solution on the Marussia engines with a special paint applied on the exhaust pipes and some components.
Autosprint says the power gain is about 20 bhp in certain circumstances.
On the down side, Antonini adds that the increased temperature inside the tubes may cause them to break.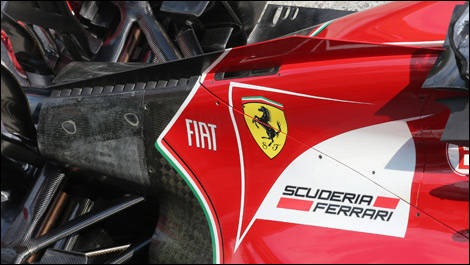 Ferrari F14 T. (Photo: WRi2)