From GMM
Mercedes' reliability worries are not over.
In Canada, Lewis Hamilton failed to finish, while Nico Rosberg nursed his ailing W05 to just second place as the otherwise utterly dominant German squad struck cooling problems with its energy recovery systems.
In Friday and Saturday practice at the Red Bull Ring, the problems were back.
"No, unfortunately not," said team boss Toto Wolff, when asked by the Austrian broadcaster
ORF
on Saturday if the Canada problems were fully resolved.
"We still have aches and pains that we have not resolved but we need to for the race. It's much like the cooling issues in Montreal.
"The sword of Damocles is hanging over us," admitted Wolff. "It's not dramatic, but it's costing us performance. We need to resolve it."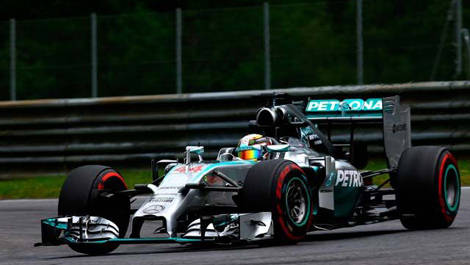 Lewis Hamilton, Mercedes W05 (Photo: WRi2)
On Saturday morning, it is believed Mercedes' troubles contributed to Valtteri Bottas setting the fastest time in the final practice session before qualifying, even though Wolff said the Mercedes-powered Williams is simply "fast" in Austria.
So much so that Williams then out-qualified Mercedes. Rosberg, in the fastest W05, was only third and Hamilton a distant ninth on the grid. The Brit, who went wide on his first flying lap and spun on his second, didn't even set a time in Q3.
"Sometimes you get it all together, sometimes you don't and today I didn't get the job done," he said.
"My first lap in Q3 was looking good before I went wide in the second-to-last corner, and I think that lap would probably have done it. Then on the second run, I hit the brakes into Turn 2 and just locked the rears; I still need to look at the data to see exactly what happened."
Team boss Toto Wolff, however, suspects a driver error.
"We are just looking at the data," he told Austrian broadcaster
ORF
. "It looks as if the rear brakes blocked, at precisely the moment when he downshifted.
"Whether it was a driver error or a problem, I don't know exactly yet."