Everybody expected Lewis Hamilton to take his fourth career pole at the circuit Gilles-Villeneuve, but it's his Mercedes teammate Nico Rosberg who will lead the field, tomorrow, when the green flag drops at the Canadian Grand Prix.
Q1
Qualifying starts under perfect conditions: sunny sky, 24 degrees and packed stands.
Perfect conditions for everyone except for Esteban Gutierrez, who wrecked his Sauber during the third free practice session, on Saturday morning. The Mexican will sit out qualifying.
Nico Rosberg posts the quickest lap of the 4.361-kilometre track in 1min16.690s. His teammate Lewis Hamilton improves only minutes later with a 1min16.438s, then with a 1min15.750s.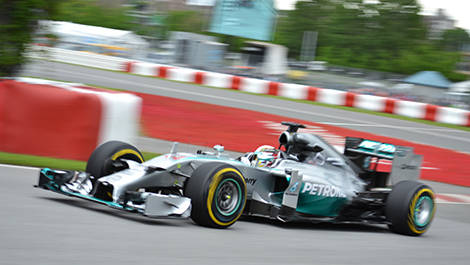 Lewis Hamilton, Mercedes W05 (Photo: René Fagnan)
Nico Rosberg decides to park it for now. His mechanics start working on the front of his W05.
With one minute to go, Pastor Maldonado's Renault-powered Lotus E22 grinds to a halt in corner 3. Almost at the same moment, Marcus Ericsson spins and breaks his suspension against the wall.
Maldonado, Max Chilton and Jules Bianchi (Marussia), Kamui Kobayashi and Ericsson (Caterham) and Gutierrez (Sauber) are done for the day.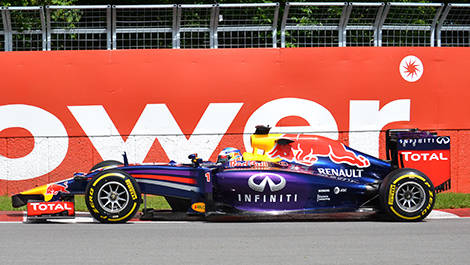 Sebastian Vettel, Red Bull RB10 (Photo: René Fagnan)
Q2
Williams' Felipe Massa posts a 1min16.666s that puts him first for most of the session. His teammate Valtteri Bottas is a close second until Hamilton and Rosberg push both of them down two spots.
Nico Hulkenberg and Sergio (Sahara Force India), Kevin Magnussen (McLaren), Romain Grosjean (Lotus), Daniil Kvyat (Toro Rosso) and Adrian Sutil (Sauber) are left out of the top 10.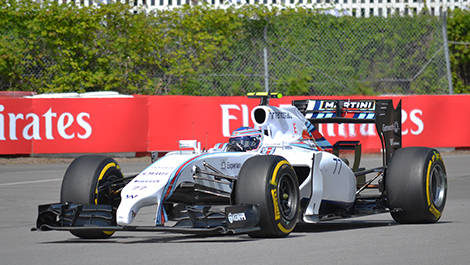 Valtteri Bottas, Williams FW36 (Photo: René Fagnan)
Q3
Bottas is the early reference at 1min15.550s. But Rosberg (1min14.946) and Hamilton (1min15.014) are unbeatable.
Hamilton and Rosberg go out again to improve. They both do, so Rosberg stays ahead with a 1min14.874.
Nico Rosberg, Mercedes W05 (Photo: René Fagnan)
Sebastian Vettel (Red Bull-Renault), who edged ahead of both Williams drivers (Bottas then Massa), and his teammate Daniel Ricciardo.
Fernando Alonso (Ferrari) is a disappointing seventh ahead of Jean-Eric Vergne (Toro Rosso), Jenson Button (McLaren) and Kimi Raikkonen (Ferrari).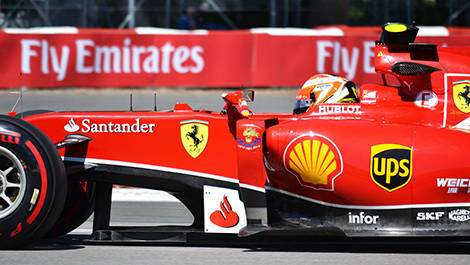 Kimi Raikkonen, Ferrari F14 T (Photo: René Fagnan)
Qualifying results* – Canadian Grand Prix (round 7 of 19)
1.Nico Rosberg (Mercedes W05) - 1'14"874 - Q3
2.Lewis Hamilton (Mercedes W05) - 1'14"953 - Q3
3.Sebastian Vettel (Red Bull RB10-Renault) - 1'15"548 - Q3
4.Valtteri Bottas (Williams FW36-Mercedes) - 1'15"550 - Q3
5.Felipe Massa (Williams FW36-Mercedes) - 1'15"578 - Q3
6.Daniel Ricciardo (Red Bull RB10-Renault) - 1'15"589 - Q3
7.Fernando Alonso (Ferrari F14-T) - 1'15"814 - Q3
8.Jean-Eric Vergne (Toro Rosso STR9-Renault) - 1'16"162 - Q3
9.Jenson Button (McLaren MP4/29-Mercedes) - 1'16"182 - Q3
10.Kimi Raikkonen (Ferrari F14-T) - 1'16"214 - Q3
11.Nico Hulkenberg (Force India VJM07-Mercedes) - 1'16"300 - Q2
12.Kevin Magnussen (McLaren MP4/29-Mercedes) - 1'16"310 - Q2
13.Sergio Perez (Force India VJM07-Mercedes) - 1'16"472 - Q2
14.Romain Grosjean (Lotus E22-Renault) - 1'16"687 - Q2
15.Daniil Kvyat (Toro Rosso STR9-Renault) - 1'16"713 - Q2
16.Adrian Sutil (Sauber C33-Ferrari) - 1'17"314 - Q2
17.Pastor Maldonado (Lotus E22-Renault) - 1'18"328 - Q1
18.Max Chilton (Marussia MR03-Ferrari) - 1'18"348 - Q1
19.Jules Bianchi (Marussia MR03-Ferrari) - 1'18"359 - Q1
20.Kamui Kobayashi (Caterham CT05-Renault) - 1'19"278 - Q1
21.Marcus Ericsson (Caterham CT05-Renault) - 1'19"820 - Q1
22.Esteban Gutierrez (Sauber C33-Ferrari) - no time - Q1
*Unofficial timing