In an interview he gave to
ESPN
, Venezuelan Formula 1 driver Pastor Maldonado said he does not regret having moved from Williams to Lotus.
This seems to be a bit difficult to understand since Maldonado suffered a series of technical woes since the start of the season with Lotus, and has failed to score a single championship point.
In the meantime, team Williams lies fourth in the constructors' championship (just behind Ferrari), having finished on the podium three times so far this season.
"I'm feeling better," Maldonado declared.
"I was not feeling really bad at Williams. I felt good, especially in my first two years when I won and also when I first started with Rubens [Barrichello] as a teammate," he said.
"But last year I felt like it was the time to discover something else for myself. We were not getting progression in terms of development, but for sure I knew that this year would not be a repeat of 2013 [for Williams] because they got the Mercedes engine and they have a good car. The extra power is helping them quite a lot in my opinion," he explained.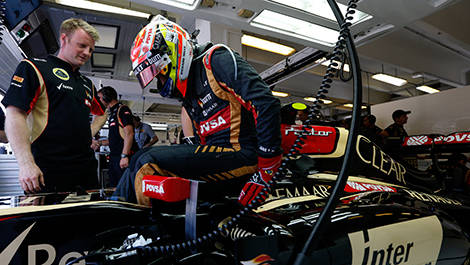 Pastor Maldonado, Lotus (Photop: Lotus F1 Team)
How come Lotus has had so many problems this season?
"At Lotus, in the past, they used to have some of the best cars in F1, always really clean and good. This year maybe the package is not working together, but it's not that the car is really bad because our numbers are quite good in terms of downforce and efficiency. Now maybe the biggest problem is the lack of power and the big difference between engines," he explained.
Lotus' technical director Nick Chester gave more insights in an interview posted on
Formula1.com
.
"We were hurt at the start of the year because of the car being late - plus we had pretty poor reliability, so in Melbourne we were in pretty bad shape.," Chertser explained.
"Over the first four races to Barcelona we then improved very heavily, in quite a few areas really. Not really just on the chassis side but also the power unit - the mapping got a lot better and we had quite a lot more power by Barcelona, where the car was performing pretty well. We haven't been happy with where we have been in the races that followed. In Monaco we expected the car to perform quite well and it didn't - we struggled with some of the low-speed corners - and then at places like Montreal and Spielberg, we struggled with the power-sensitivity of those tracks," he said.