From Red Bull
Red Bull Racing driver Daniel Ricciardo admits he was a little bit disappointed by the Australian Grand Prix stewards' decision to disqualify him last week.
"The (disqualification) put a bit of a downer on what had been a brilliant day," he says on his team's website.
"It's not how I imagined celebrating after my first F1 podium."
But the Australian also added he preferred his faith to Sebastian Vettel's. In the sister Red Bull, the quadruple world champion managed only three laps before "power unit" problems sidelined him.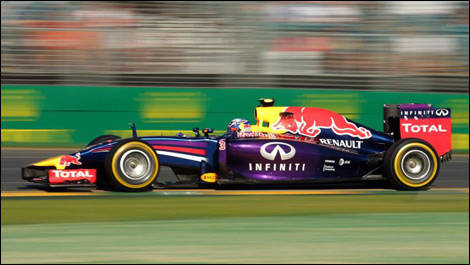 Daniel Ricciardo, Red Bull RB10 (Photo: Red Bull Racing)
"I'd rather it went down like this (being disqualified) than have retired from the race with a mechanical problem," he admits.
"I'll take a podium and a subsequent disqualification over that any day of the week."
On the back of his encouraging performance in Melbourne, the former Toro Rosso driver is looking forward to next week's Malaysian Grand Prix.
"Albert Park's made me hungry to get on the podium again," he explains.
"The work we did in the winter targeted reliability rather than performance. It was only in Melbourne that we got the opportunity to start working on a set-up.
"The RB10 surprised us by being pretty competitive in the dry and very competitive in the wet. It's going to get much better as we dial it in over the next few races and catch up with those teams that did more miles pre-season."