Daniel Ricciardo crossed the finish line only behind race winner Nico Rosberg, Sunday at the Australian Grand Prix, but the stewards took his second-place finish away.
They found his Red Bull RB10 to be illegal, as it "exceeded consistently the maximum allowed fuel flow" rate during the race, which is 100kg/h.
Red Bull Racing already confirmed its intention to appeal the stewards' decision: "Inconsistencies with the FIA fuel flow meter have been prevalent all weekend up and down the pit lane," said a report.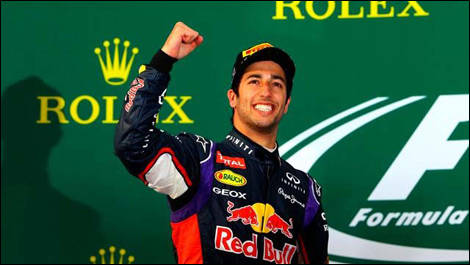 Daniel Ricciardo before he was knocked off the podium (Photo: WRi2)
"The Team and Renault are confident the fuel supplied to the engine is in full compliance with the regulations."
As
Auto123.com
understands, Red Bull is at fault because it decided to rely on its own fuel flow calculations, rather than on the official measurements from the FIA-homologated sensor on Ricciardo's car, which the team considered too inconsistent.
Most teams, including Red Bull, have been experiencing fuel flow sensor problems since the pre-season.
At least until the appeal is heard, McLaren drivers Kevin Magnussen and Jenson Button are elevated to 2nd and 3rd place following Ricciardo's disqualification.