French engine supplier Renault has confirmed that its four teams will be allowed to use the full power of its V6 turbo hybrid power unit during this weekend's Grand Prix of Canada.
For the first time this season, the four teams under contract with Renault Sport F1 - Red Bull Racing, Toro Rosso, Caterham and Lotus – will be allowed to use the full potential of their V6 engines.
"At the start of the season we said that we would be out of recovery mode and back on track from the Canadian Grand Prix onwards," said Remi Taffin, Renault Sport F1 head of track operations.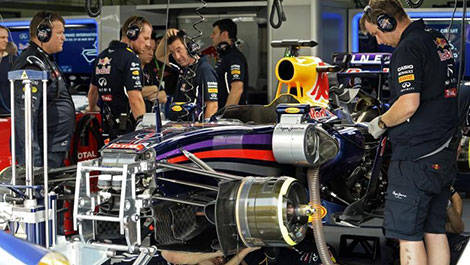 Red Bull Racing garage (Photo: DPPI/Renault)
"In the last four races we've introduced several new upgrades and we will complete the process in Montreal, effectively giving us the first full opportunity to see where we are versus the competition," he added.
"We have several new parts to debut here, primarily designed to give us greater reliability. As in previous races we have more upgrades to software to further enhance driveability and energy management," Taffin continued.
"Additionally we have investigated the reasons for the failures in Monaco and have taken measures to ensure they do not reoccur. In particular we have looked at Sebastian Vettel's issue, which was traced back to a mechanical problem with the MGU-H. The part in question has been revisited and further end of line checks have made it more robust now," Taffin explained.
The issue of increased fuel consumption
"The exhaust issues on the Toro Rossos have also been investigated with the team and together we have seen how we can avoid further issues in future thanks to improvements to our diagnosis and understanding of the full exhaust system behaviour in the car," the French engineer said.
Renault Sport F1 also confirmed that the Gilles-Villeneuve circuit is mechanically very demanding.
The long straights require maximum power for a high percentage of the lap, putting a huge stress on the V6 engine.
The frequent accelerations will also greatly increase fuel consumption, and 100kg of petrol may not be enough to complete the 70 laps of the race.