Renault Sport F1 boss Jean-Michel Jalinier has met with the customer teams that use the Renault Power Unit to remind them to pay their bills.
In the paddock of Circuit de Catalunya in Barcelona, Jalinier told journalists that the French company was losing patience and threatened to suspend engine supply if the issue was not solved quickly.
Renault currently supplies V6 turbo hybrid Power Units to Red Bull Racing, Toro Rosso, Lotus and Caterham. However, it is widely speculated by Red Bull Racing is not behind with payments.
News agency
Reuters
reports that Jalinier said that while Renault could live with late payments "up to a certain point", the critical point - likely to be the Grand Prix of Monaco later this month - was fast approaching.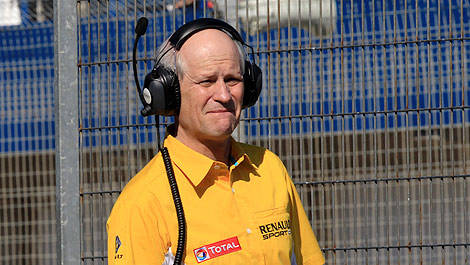 Jean-Michel Jalinier, Renault Sport F1. (Photo: WRi2)
"Our resources are coming from two sources: One is Renault, and we have been able to secure the right resources...and the other part of it is coming from the teams, because we are selling the engines to the teams," Jalinier told reporters in Barcelona.
"On this part I must say we are not at an acceptable situation, because some of the teams are just late in payments, and at the time you need to spend resources to catch up you cannot afford to have those (late) payments," Jalinier added.
Jalinier was asked if suspending engines supply to the teams behind with their payments was considered, the Frenchman said: "That is an option. You first need to work with your team and get back to some kind of financial situation."