As the Formula 1 world prepares for the new 1.6-litre V6 era, Renault Sport's Remi Taffin revealed efficiency was key in developing the now defunct 2.4-litre V8.
In an effort to cut the costs of racing, engine development was frozen in 2007, one year after the start of the V8 era. Each engine also had to run for multiple races, some times up to 2,500km.
Efficiency therefore became the best way to improve performance.
"We could have thought about it at the start of the V8 era," the French manufacturer head of track operations is quoted saying by
Motorsport.com
, "but at that point we were focused on gaining horsepower.
"(When development was frozen) we went horizontal rather than vertical. We looked at where the energy produced went, for instance.
"More than 50 % (of it was) dissipated in the exhausts. We asked ourselves if we could use this energy."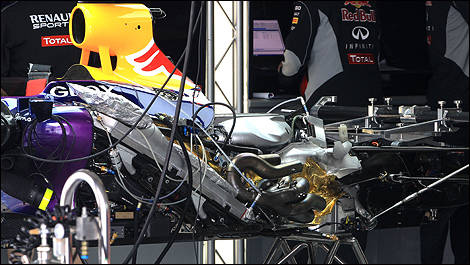 Renault V8 in the back of a Red Bull RB9 (Photo: WRi2)
The answer was yes, through many small improvements.
"We worked on the throttle timing (and) at the way we use the engine modes, (we) have increased the capability of running lower water, oil flow and higher water and oil temperatures and have improved the fuel efficiency.
"The changes were not extreme, but the results were."
Indeed, Renault-powered cars went on to 59 wins, 65 pole positions and 55 fastest laps in the 8 years of the V8 era.