Team Williams' new head of vehicle performance, Briton Rob Smedley is confidant his protégé, Felipe Massa will be in stronger shape at this weekend's Monaco GP.
The engineer made that comment following the results of the recent Barcelona test.
Massa drove the Mercedes-powered Williams FW36 last Tuesday, and Smedley says both Williams and the veteran driver himself are pleased with the improvements made.
Smedley led the recent post-race technical debriefings.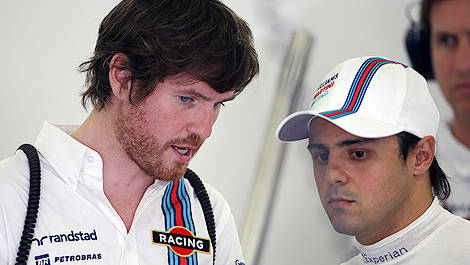 Rob Smedley and Felipe Massa, Williams Martini Racing. (Photo: WRi2)
"My approach is to always go through and look at every single detail even if that wastes a little bit of time going down certain avenues," he said.
"So, we have come up with some very, very good analysis in a very short space of time. Luckily there was the test after the race in Barcelona so we were able to test some things could there, which worked. That just gives us all a great deal of confidence in our analysis methods and then going to test those methods in the track, it gives Felipe confidence that 'I had a problem in the last two races, the guys have got stuck in and they've come out with a bunch of things, we've tested that all in Spain and it's all worked'," the engineer explained.
"So he's confident going into Monaco, we're confident in him and I'm certainly happy with that round of work," Smedley concluded.