Sauber Formula 1 Team has gone 14 Grands Prix without scoring a single point and in Singapore both of their cars failed to reach the finish for the fourth time this season.
Times are very difficult financially and there are currently a lot of rumours about a possible takeover of the team.
"Well, since Peter (Sauber) bought the team back from BMW it was clear that we are always open to a strong partner," said team principal Monisha Kaltenborn in an interview posted on
Formula1.com
.
"We always had a strong partner in the past if you look at Credit Suisse or Red Bull or Petronas - even if they have not been shareholders in the classic meaning - so this is nothing new to us. We also know that if you want to be competitive today you need a strong partner as a private team. From that perspective we have had several talks in the past - and that is all I can say," he added.
In regards to reports that suggest that Canadian billionaire Lawrence Stroll would be in talks with the team, she replied: "As I said, a strong partner is always a good fit - but I cannot comment any more at this point".
In regards to the Russian deal that emerged late last year, Kaltenborn said it is not dead.
"It is not falling apart. The problem is things take their time and there is no way that we can affect that time line. And maybe things come up for the other side that simply were given more priority. The line between private and public is a very thin one in Russia. Certain political situations equally affect partnerships - and that has also happened. So there is not much you can do but wait", she replied.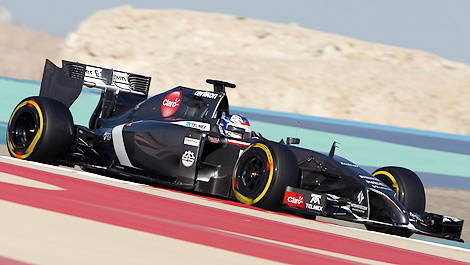 Sergey Sirotkin, Sauber, at Bahrain. (Photo: WRi2)
The 2014 season so far has been very difficult and frustrating for all Sauber personnel. Why has gone wrong?
"We have not forgotten how to make good cars. This year's challenger is not one of our good cars - but it's also not the worst car!" Kaltenborn explained.
"We know why this all is happening. We know where we went wrong, but we also see that the powertrain plays an important role this year - that has been proven by other powertrains throughout the grid. We do not have the most competitive one [Ferrari], which makes it very difficult for a team like ours when you are limited on the resources to try and compensate. But we have to live with that and I am sure that our engine supplier is doing everything because they (Ferrari) are suffering equally. So we both have to go through this," she said.