Sauber Formula 1 team is currently working on a new, lightweight C33 chassis.
British motorsport magazine
Autosport
has revealed that one of the main problems the Swiss team faces is a car that is overweight.
This year, the minimum weight of the F1 turbo hybrid cars has been set to 692 kg. However, it seems that the C33 is clearly above that weight.
The team led by Monisha Kaltenborn is trying to lower the weight of the car by 10 kilos by manufacturing a new lighter chassis.
It must be noted that saving some weight on the chassis may well reduce its torsional stiffness and/or make it much more difficult to pass the FIA crash tests.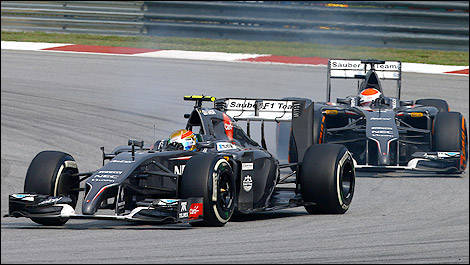 The two Sauber C33-Ferrari, driven by Esteban Gutierrez and Adrian Sutil. (Photo: WRi2)
The Swiss team must at the same time solve several reliability problems.
"We certainly have to do things on the chassis side, and we also have to see to the powertrain side. We have to work on both sides," said Kaltenborn in Bahrain.
Is it fair to say that Sauber were struggling in 2013 on the financial side. How is the current situation?
"We managed last year to secure our deal with Telmex, which was an important step, and now we are taking it step by step. Not so much is visible now, but you can rest assured that a lot is going on in the background and we will hopefully be able to tell the public soon. I hope it will be an easier year than 2013 was," Kaltenborn told
Formula1.com
.