Sauber affiliated driver Simona de Silvestro completed the second day of first ever F1 test, this weekend in Italy.
The 25-year-old woman tasted F1 for the first time Saturday, turning 112 laps of the Fiorano test track, aboard a two-year-old Sauber C31, powered by a normally-aspirated Ferrari V8. She clocked a further 68 laps today.
"We continued today where we left off yesterday with the acclimatization programme for Simona," said test engineer Paul Russel. "Simona drove very well, had a good pace and was consistent. Overall these were two very positive days."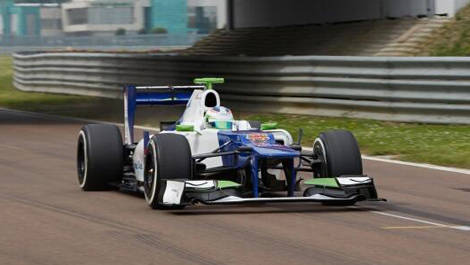 Simona de Silvestro, Sauber C31 (Photo: Twitter)
"A big thank you to the team who did a fabulous job explaining everything to me," added de Silvestro.
"I had a lot of questions, and I got all the answers from the engineers, who took the time to show me the data and discuss it with me in all detail. I'm already looking forward to my next opportunity to test the C31."
The former IndyCar driver will be back behind the wheel of the C31 for another test in two months, June 25-27, in Valencia, Spain.