Swiss-born racer Simona de Silvestro is the latest woman to get behind the wheel of an F1 car.
The 25-year-old completed a total of 112 laps of the Fiorano test track, Saturday, for a total of 336 kilometres behind the wheel of a Ferrari-powered Sauber C31.
The former IndyCar racer, who became a Sauber affiliated driver two months ago, is working towards obtaining her "superlicence".
"What impressed me most was the downforce of the car and the braking," she said.
"When I did my first lap the brakes were cold, but even then the decelaration was beyond what I had experienced before. The g-forces are significantly higher compared to what I was used to in IndyCar. Overall, I'm happy with my first day in a Formula One car."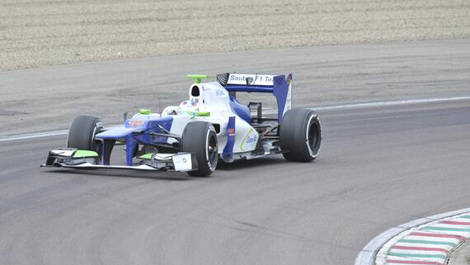 Simona de Silvestro, Sauber C31 (Photo: Twitter)
"Simona did a very solid job today," added test engineer Paul Russell.
"It was immediately clear that she is an experienced driver. It was as good a start in a Formula One car as you could hope for, and you couldn't really ask for more today."
De Silvestro will be back on track tomorrow for more mileage.
It is unclear however what her future with the team might be, as Sauber already has two reserve drivers – Sergey Sirotkin and Giedo van der Garde – who are also pushing for race seats.