From press release
Lewis Hamilton scored his fourth consecutive win this season after just five races, by beating his Mercedes teammate Nico Rosberg by just 0.636s at the finish of the Spanish Grand Prix.
The pair ran on different strategies, with Rosberg opting to keep his last set of option tires for the third and last stint of the race in order to be able to put pressure on Hamilton.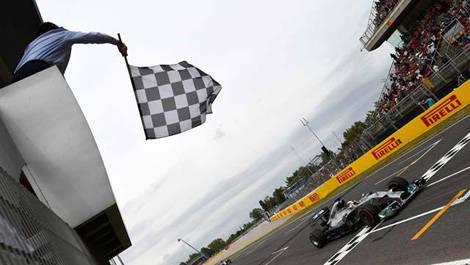 Lewis Hamilton, Mercedes W05 (Photo: WRi2)
But Hamilton prevailed to finally take the lead in the drivers' championship by three points over Rosberg.
The Mercedes duo was dominant, only four other drivers managed to finish on the lead lap: Red Bull's Daniel Riccardo and Sebastian Vettel, Williams' Valtteri Bottas and Ferrari's Fernando Alonso.
Photo: WRi2
"It's fantastic to get my first win here after eight attempts and it's really difficult to put that feeling into words right now," said the winner.
"In all my career, I've never before had a car or a performance gap like this. (…) There's still a long way to go this season, though, so we are staying humble, getting our heads down and working hard," added the 2008 world champion.
"But it's a great feeling to be leading the championship."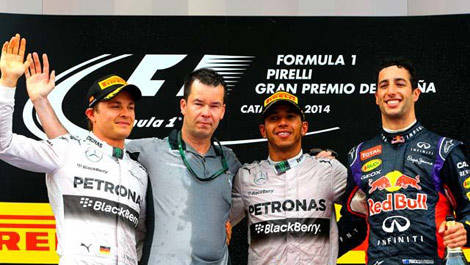 Photo: WRi2
"My start was bad," admitted Rosberg.
"Once it was clear that I was in second place, we chose to go with the slower strategy using the prime tires in the middle stint to get a shot at Lewis at the end when I was on the options. It was very close but not quite close enough so naturally I'm disappointed.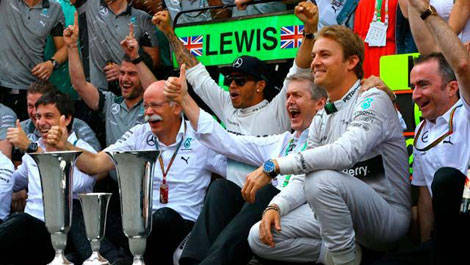 Photo: WRi2
The German still hopes to overturn the situation: "The next race is Monaco which is not only my home race but has some great memories from my victory there last year."
Race results* – Spanish Grand Prix (round 5 of 19)
1 - Lewis Hamilton (Mercedes W05) – 66 laps 1:41'05"155
2 - Nico Rosberg (Mercedes W05) - 0"636
3 - Daniel Ricciardo (Red Bull RB10-Renault) - 49"014
4 - Sebastian Vettel (Red Bull RB10-Renault) – 1'16"702
5 - Valtteri Bottas (Williams FW36-Mercedes) - 1'19"392
6 - Fernando Alonso (Ferrari F14-T) - 1'27"743
7 - Kimi Raikkonen (Ferrari F14-T) – 1 lap
8 - Romain Grosjean (Lotus E22-Renault) – 1 lap
9 - Sergio Perez (Force India VJM07-Mercedes) – 1 lap
10 - Nico Hulkenberg (Force India VJM07-Mercedes) – 1 lap
11 - Jenson Button (McLaren MP4/29-Mercedes) – 1 lap
12- Kevin Magnussen (McLaren MP4/29-Mercedes) – 1 lap
13 - Felipe Massa (Williams FW36-Mercedes) – 1 lap
14 - Daniil Kvyat (Toro Rosso STR9-Renault) – 1 lap
15 - Pastor Maldonado (Lotus E22-Renault) – 1 lap
16 - Esteban Gutierrez (Sauber C33-Ferrari) – 1 lap
17 - Adrian Sutil (Sauber C33-Ferrari) – 1 lap
18 - Jules Bianchi (Marussia MR03-Ferrari) – 2 laps
19 - Max Chilton (Marussia MR03-Ferrari) – 2 laps
20 - Marcus Ericsson (Caterham CT05-Renault) – 2 laps
Fastest lap of the race: 1'28"918 by Sebastian Vettel (Red Bull)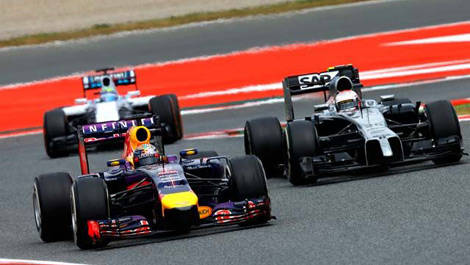 Sebastian Vettel, Kevin Magnussen (Photo: WRi2
Retirements
Lap 34 - Kamui Kobayashi
Lap 24 - Jean-Eric Vergne
*Unofficial results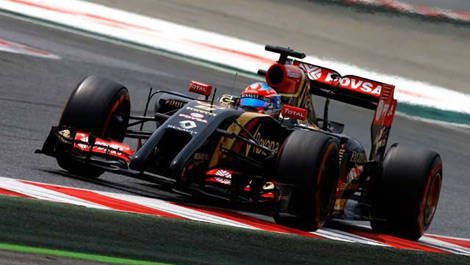 Romain Grosjean, Lotus E22 (Photo: WRi2)