From press release
Mercedes' Lewis Hamilton scored another pole position Saturday, ahead of the Spanish Grand Prix.
The 2008 world champion, who has never won in Spain, had been slower than his teammate Nico Rosberg, who qualified second aboard the sister W05, all day. But he found a way to improve when it mattered the most.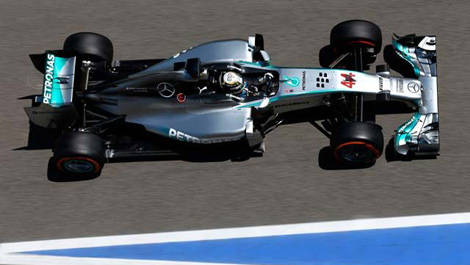 Lewis Hamilton, Mercedes W05 (Photo: WRi2)
"Nico had a strong P3 and first two sessions of qualifying," admitted Hamilton.
"So we were making small adjustments to the differential to try and make improvements to how the car was handling for Q3. On that final run, I really had to eke out everything and more from the car and myself to get pole.
"I'm so happy that I managed it!"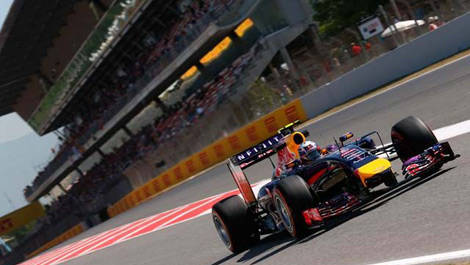 Daniel Ricciardo, Red Bull RB10 (Photo: WRi2)
Rosberg, who won the opening round of the season in Australia, leads the drivers' championship, but has not been able to match Hamilton's pace so far this season.
The German pins his hopes of beating his teammate on a good start Sunday.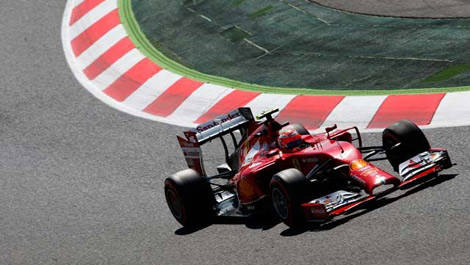 Kimi Raikkonen, Ferrari F14-T (Photo: WRi2)
"Starting second is a bit of a disadvantage but it's such a long straight down to the first corner," he commented after qualifying.
"So I will hope to have a better start than Lewis tomorrow and overtake him. It's also a long race where tyre degradation will be a key issue so there may be some opportunities to take advantage."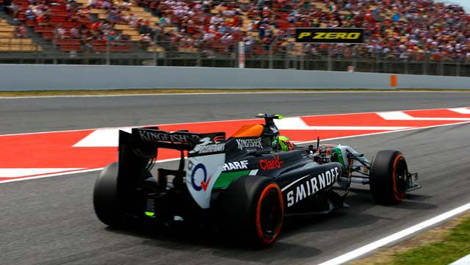 Sergio Perez, Force India VJM07 (Photo: WRi2)
Qualifying results* – Spanish Grand Prix (round 5 of 19)
1.Lewis Hamilton (Mercedes W05) – 1'25"232 - Q3
2.Nico Rosberg (Mercedes W05) - 1'25"400 - Q3
3.Daniel Ricciardo (Red Bull RB10-Renault) - 1'26"285 - Q3
4.Valtteri Bottas (Williams FW36-Mercedes) - 1'26"632 - Q3
5.Romain Grosjean (Lotus E22-Renault) – 1'26"960 - Q3
6.Kimi Raikkonen (Ferrari F14-T) – 1'27"104 - Q3
7.Fernando Alonso (Ferrari F14-T) - 1'27"140 - Q3
8.Jenson Button (McLaren MP4/29-Mercedes) - 1'27"335 - Q3
9.Felipe Massa (Williams FW36-Mercedes) - 1'27"402 - Q3
10.Sebastian Vettel (Red Bull RB10-Renault) – no time - Q3
11.Nico Hulkenberg (Force India VJM07-Mercedes) - 1'27"685 - Q2
12.Sergio Perez (Force India VJM07-Mercedes) – 1'28"002 - Q2
13.Daniil Kvyat (Toro Rosso STR9-Renault) - 1'28"039 - Q2
14.Esteban Gutierrez (Sauber C33-Ferrari) - 1'28"280 - Q2
15.Kevin Magnussen (McLaren MP4/29-Mercedes) – no time - Q2
16.Adrian Sutil (Sauber C33-Ferrari) - 1'28"563 - Q1
17.Max Chilton (Marussia MR03-Ferrari) - 1'29"586 - Q1
18.Jules Bianchi (Marussia MR03-Ferrari) - 1'30"177 - Q1
19.Marcus Ericsson (Caterham CT05-Renault) – 1'30"312 - Q1
20.Kamui Kobayashi (Caterham CT05-Renault) – 1'30"375 - Q1
21.Pastor Maldonado (Lotus E22-Renault) – no time - Q1
22.Jean-Eric Vergne (Toro Rosso STR9-Renault) – no time - Q2**
*Unofficial results**10-place grid penalty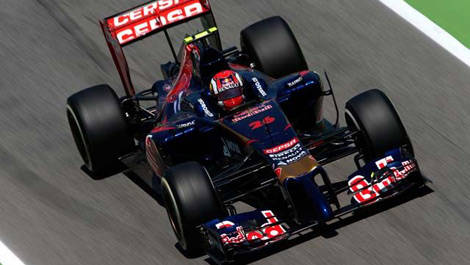 Daniil Kvyat, Toro Rosso STR9 (Photo: WRi2)