Mercedes AMG Formula 1 drivers Lewis Hamilton and Nico Rosberg finished the first day of track action in Barcelona in first and second places respectively.
The newly titled Mercedes F1 W05 Hybrid topped both of today's practice sessions at the Circuit de Catalunya, home of the Spanish Grand Prix, first European race of the season.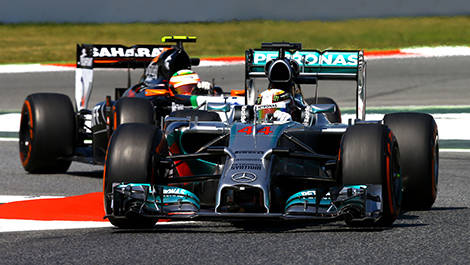 Lewis Hamilton, Mercedes W05. (Photo: WRi2)
The drivers completed a total of 95 laps today across the two practice sessions, just under 1.5 race distances.
Rosberg's mileage was restricted by an ERS cooling system problem in the first session and he completed just nine laps.
The big news concerned Sebastian Vettel who was forced to sit out second practice due to an electrical problem.
The issue manifested itself just four laps into FP1, forcing Vettel to pull his RB10 to a halt on circuit. An electrical problem had damaged the wiring loom of the RB10.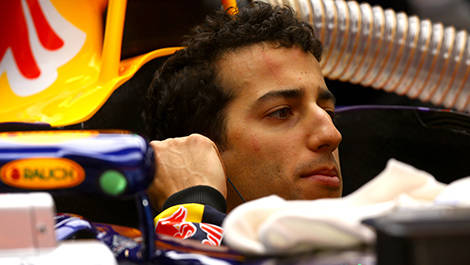 Daniel Ricciardo, Red Bull Racing. (Photo: WRi2)
"Our two practice sessions today went very smoothly, in fact I've not had such a good Friday for a very long time!," Hamilton said.
"Barcelona is a difficult circuit in terms of the tires so our running was all about trying to see how long the tires would last and we were able to make some positive changes with that during P2 this afternoon. It's very difficult to overtake here so we will do everything we can to qualify as high as possible tomorrow, but really it is all about the race and looking after those tires is the most important thing," he added.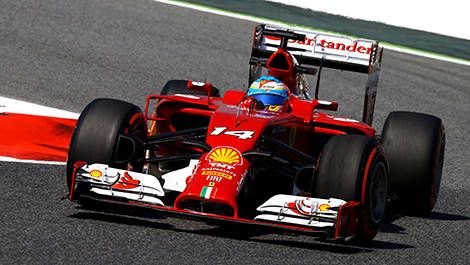 Fernando Alonso, Ferrari F14 T. (Photo: WRi2)
Spanish Grand Prix, Barcelona, Friday's Free Practice 1*:

1 - Lewis Hamilton (Mercedes W05) - 1'27"023 - 17 laps
2 - Jenson Button (McLaren MP4-29-Mercedes) - 1'27"891 - 26
3 - Daniel Ricciardo (Red Bull RB10-Renault) - 1'27"973 - 21
4 - Fernando Alonso (Ferrari F14 T) - 1'28"128 - 21
5 - Nico Rosberg (Mercedes W05) - 1'28"168 - 9
6 - Kimi Raikkonen (Ferrari F14 T) - 1'28"337 - 19
7 - Kevin Magnussen (McLaren MP4-29-Mercedes) - 1'28"423 - 27
8 - Pastor Maldonado (Lotus E22-Renault) - 1'28"744 – 34
9 - Sergio Perez (Sahara Force India VJM07-Mercedes) - 1'28"779 - 18
10 - Felipe Massa (Williams FW36-Mercedes) - 1'28"791 - 13
11 - Daniil Kvyat(Toro Rosso STR9-Renault) - 1'28"792 - 24
12 - Nico Hulkenberg (Sahara Force India VJM07-Mercedes) - 1'28"828 - 17
13 - Jean-Eric Vergne (Toro Rosso STR9-Renault) - 1'28"859 - 24
14 - Felipe Nasr (Williams FW36-Mercedes) - 1'29"272 - 15
15 - Adrian Sutil (Sauber C33-Ferrari) - 1'29"688 - 16
16 - Jules Bianchi (Marussia MR03-Ferrari) - 1'29"820 - 22
17 - Romain Grosjean (Lotus E22-Renault) - 1'29"944 - 21
18 - Giedo Van der Garde (Sauber C33-Ferrari) - 1'30"440 - 22
19 - Max Chilton (Marussia MR03-Ferrari) - 1'30"748 - 19
20 - Sebastian Vettel (Red Bull RB10-Renault) - 1'30"942 - 4
21 - Kamui Kobayashi (Caterham CT05-Renault) - 1'30"997 - 22
22 - Marcus Ericsson (Caterham CT05-Renault) - 1'31"421 - 22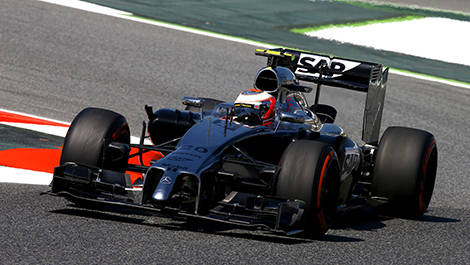 Kevin Magnussen, McLaren-Mercedes. (Photo: WRi2)
Spanish Grand Prix, Barcelona, Friday's Free Practice 2*:

1 - Lewis Hamilton (Mercedes W05) - 1'25"524 - 33 laps
2 - Nico Rosberg (Mercedes W05) - 1'25"973 +0.449 - 36
3 - Daniel Ricciardo (Red Bull RB10-Renault) - 1'26"509 +0.985 - 38
4 - Fernando Alonso (Ferrari F14 T) - 1'27"121 +1.597 - 33
5 - Kimi Raikkonen (Ferrari F14 T) - 1'27'296 +1.772 - 33
6 - Kevin Magnussen (McLaren MP4-29-Mercedes) - 1'27"788 +2.264 - 37
7 - Jenson Button (McLaren MP4-29-Mercedes) - 1'27"811 +2.287 - 29
8 - Felipe Massa (Williams FW36-Mercedes) - 1'27"824 +2.300 - 31
9 - Pastor Maldonado (Lotus E22-Renault) - 1'27"866 +2.342 - 42
10 - Daniil Kvyat (Toro Rosso STR9-Renault) - 1'28"049 +2.525 - 35
11 - Nico Hulkenberg (Sahara Force India VJM07-Mercedes) - 1'28"074 +2.550 - 31
12 - Jean-Eric Vergne (Toro Rosso STR9-Renault) - 1'28"246 +2.722 - 30
13 - Adrian Sutil (Sauber C33-Ferrari) - 1'28"284 +2.760 - 33
14 - Valtteri Bottas (Williams FW36-Mercedes) - 1'28"698 +3.174 - 33
15 - Esteban Gutierrez (Sauber C33-Ferrari) - 1'29"105 +3.581 - 24
16 - Sergio Perez (Sahara Force India VJM07-Mercedes) - 1'29"129 +3.605 - 34
17 - Romain Grosjean (Lotus E22-Renault) - 1'29"493 +3.969 - 26
18 - Jules Bianchi (Marussia MR03-Ferrari) - 1'29"991 +4.467 - 26
19 - Max Chilton (Marussia MR03-Ferrari) - 1'31"148 +5.624 - 28
20 - Kamui Kobayashi (Caterham CT05-Renault) - 1'31"338 +5.814 - 38
21 - Marcus Ericsson (Caterham CT05-Renault) - 1'31"586 +6.062 - 39
* Unofficial timings